This work product is part of the ongoing series of articles about costumes in the marketplace attributed to use by Christopher Reeve in the Superman films of the 70s and 80s (see "Questions About Superman Costumes in the Marketplace: Authenticity, Sources, Quantity").
What I have attempted to do is catalog the costumes offered for sale to the public by auction houses and by prop dealers on their commercial websites.
I have tried to capture as much of the key details of these offerings as possible to populate a matrix in an effort to share information with collectors about what has been offered for sale and the attributes of those costumes and costume parts. This also offers an opportunity to compare and contrast some of the characteristics of these costumes. Some also appear to have been sold and resold (based on matching wardrobe tags, for instance), as noted in the document.
Obviously, I am at the mercy of the quality and accuracy of the information used to market these pieces by auction houses, dealers, and their consignors, as applicable. In some cases, the information provided is vague and imprecise, so I would ask anyone using this document to please keep all of this in mind and to perform your own due diligence and verify all information to your own standards. I have not verified any of the information presented or claimed via the marketing and advertising of these pieces beyond what was noted in the applicable auction catalog and/or website.
This first draft version of the matrix is named "Version 1.0", marked with today's date, as I see this as a "living document" with many updates, revisions, edits, etc.
If anyone has any information to share or changes/edits or any other input, please contact me, as my goal is to make it as accurate and comprehensive as possible.
Here is the matrix: "Superman Costume Matrix: Auction House/Dealer Website Public Offerings"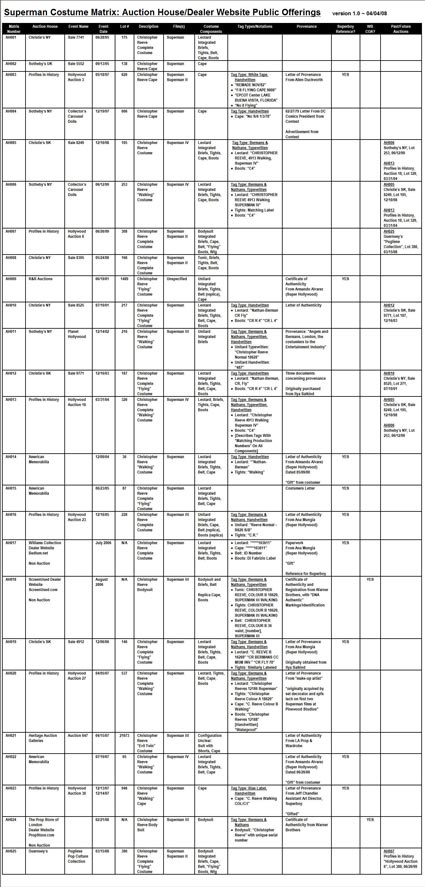 Click Image Above For Full Page
This matrix does not include costumes offered for sale outside of auction houses and dealer websites (i.e. eBay).
Details of the costumes that are included in this matrix can be found in the following OPB articles:
Other Superman costume related articles include:
Jason De Bord