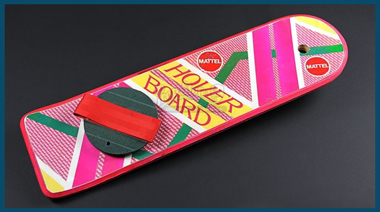 Prop Store will be holding their first live auction event in London on October 16th. The auction catalog is now available online via a PDF download and interactive catalog via their official website and collectors can bid through PropStore.com. Prop Store has been one of the few "quality" dealers in this market for many, many years, with a reputation to match, so seeing them get into the live auction "event" side of the business is a very positive development in my personal opinion.  They have put together an excellent assortment of items for this auction (many of which have not been seen before and/or auctioned in public before) and the reserves are very, very reasonable (no "jackpot" reserves/estimates as I frequently complain about).  The catalog is impressive (in design and layout), and they are including a standardized COA with each item.  The online listings show many high quality images of each item.  I think if you read the letter at the front of the catalog, you will see that Stephen Lane and Prop Store have a different set of experiences and perspectives on collecting compared with most other auction houses – there is passion and understanding as collectors.  I wish them the best in their new endeavor.  Hopefully their entrance to this arena will motivate other auction houses to improve their own businesses.  I think collectors have been complaining about a number of facets of this business, and Prop Store has listened and addressed many of them with their first big auction, and I know that they are receptive to feedback and will build on what I expect will be a successful first event. Read more

As part of my ongoing coverage of San Diego Comic-Con 2014, this article features photos of cosplayers and fans wearing costumes, and other people in and around the convention center and Exhibit Hall, as well as the Gaslamp District, and other places in an around the action during the event. Read more

As part of my ongoing coverage of San Diego Comic-Con 2014, this article features photos from the main Exhibit Hall of the convention center, areas around the convention center, the Gaslamp Quarter, and other places in an around the action during the event. Read more

This year marks the 40th Masquerade at Comic-Con International.  Presented by HBO, there were a total of 41 entries (individuals and groups).  I am happy to report that my own personal favorite entry – "Giant Monsters All Out Attack" – won best of show… Read more

This is part of my ongoing coverage of San Diego Comic-Con 2014.  This is most definitely the most important Comic-Con appearance for Prop Store since their first exhibit back in 2008.  They have managed to get a sizable upgrade in space from The Powers That Be at Comic-Con for 2014, and they have put all of that additional square footage to brilliant use, with a more open design and really elegant work in displaying their rare props and costumes with beautiful lighting.  With the added visibility, Prop Store is using the opportunity to get the word out about their first live auction even later this year, to be held in London in October.

This is part of my ongoing coverage of San Diego Comic-Con 2014.  As per tradition, Hollywood memorabilia auction house Profiles in History are exhibiting at their usual space, Booth #1605.  I've been attending Comic-Con since 1987, and have been covering it on the Original Prop Blog since 2008, and if I'm honest, I would say this is their most disappointing showing to date.  The entire back wall are costumes for the Expendables franchise (which, if you haven't seen the film(s), isn't too exciting).  With what little space is left, there is not too much to impress… and I think that this is maybe the second or third year running where the big promo is a signing from Sean Astin. Read more

One of the most fun things about Comic Con International in San Diego each year is checking out the costumes created and worn by many of the other attendees.  Some dress up for cosplay and others hope to win the annual Masquerade Party, but in any event it seems to get more and more impressive each year.  And then there are the funny costumes…  as well as the "photobombs" that have been know to occur (some of which can be found in the following photos). Read more

I spoke with Tim Lawes of Prop Store today on the last day of Comic Con International: San Diego for 2013. Below is the video interview… Read more

Joe Maddalena of Profiles in History took the time to talk about his company and upcoming auctions at Comic Con International: San Diego this weekend.  Below is the video interview… Read more

"What do you think? You're scared… you want to know more, you want to see the whole thing"… Capping off "Metallica Day" at Comic Con International: San Diego (i.e. San Diego Comic Con) with a "secret" concert at Spreckels Theatre, the metal band's front man James Hetfield makes a mid-gig reference to the IMAX 3D film, Metallica Through The Never. The Rock and Roll Hall of Fame band gave away tickets to the intimate 1,463 capacity concert venue during their Comic Con Hall H appearance earlier in the day (and funny enough, Hall H accommodates a much larger crowd of around 7,000. I know from picking up my own ticket at the special will call earlier in the day that many Fan Club members were also in attendance, so it was a pretty great energy from the crowd. Though the show was not too long (they came on an hour late at about 11 PM and finished up well before 12:30 AM), it was a fairly relentless onslaught of the metal music fans came to hear.