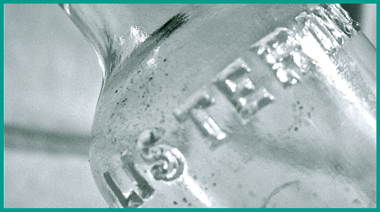 I am in receipt of a phone call today from a gentleman from Missouri, calling me claiming that he was told by an eBay dealer that the "vintage Listerine bottle from The Waltons" that he purchased was sold by the Original Prop Blog to the eBay dealer.  A simple search brought up such a listing on eBay - VINTAGE LISTERINE BOTTLE FROM TV'S THE WALTONS+ – sold five days ago by eBay dealer jnsmcmahan.  Long time readers of the Original Prop Blog will know that I personally do not find "jnsmcmahan" to be a credible dealer of authentic Hollywood memorabilia.  None the less, this notice is being published to make it perfectly clear that I have not sold anything to and will never in the future conduct any business with those behind eBay accounts "jnsmcmahan", "jsnent", nor anyone directly or loosely associated with such dealers or material or type/kind of material, including John Tarter, Billie Null, Mark Sullivan, L.A. Prop & Wardrobe, Hollywood Prop Supply, Studio West Prop, Ellis Props, and others.  In fact, the Original Prop Blog does not supply props or costumes to anyone.   Read more

In April, the "Planet of the Apes" Statue of Liberty prop that has long been the focus of an ongoing investigation by the Original Prop Blog was determined to have in fact been made for and used in the 2004 Steven Spielberg film The Terminal starring Tom Hanks – not the 1968 science fiction classic Planet of the Apes.  Read more

In a prior article, "Classic" Film & Television Prop and Wardrobe eBay Sellers, I made note of a number of similarities between the items offered for sale on eBay by "jsnent" (confirmed to be John Tarter of L.A. Prop and Wardrobe) and "jnsmcmahan".  This serves as a short update including a pictorial side-by-side comparison of photos from listings offered under each account. Read more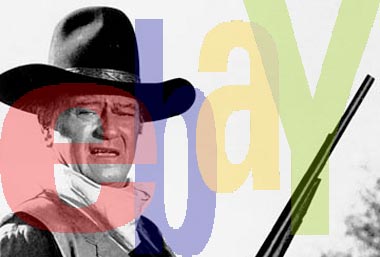 There are several companies on eBay that sell notable quantities of props and memorabilia attributed to use in classic and vintage film and television productions, as well as items characterized as personal property of Hollywood stars and notable famous figures from history. The purpose of this article is to identify these companies and include information about their public offerings. Read more
Excerpts from a Heritage Auction Galleries press release (found at news-antique.com): Read more
In performing research for my continuing series of past public auction house events, archiving and sharing information about Superman costumes offered for sale historically (of costumes attributed to use by Christopher Reeve in the Superman films of the 70s and 80s), I noticed a change on one of the "Auction Archives" listings on the Heritage Auction Galleries website. Read more
Michael Siewert of JudyGarland.com was kind enough to share some thoughts about his experience with Heritage Auction Galleries and other auction houses, and I felt his comments were worth highlighting by reposting them from the Reader Comments in the recent Heritage-related articles. I do not know Mr. Siewert, but thought we could open a discussion about some of the ideas and opinions he raised in his comments, in hopes of initiating a productive dialogue about not just Heritage, but experiences and opinions about auction houses in general. Read more
As discussed in prior articles ("Guernsey's Auction: "The Pugliese Collection"", "Guernsey's Auction: "The Pugliese Collection" – Delayed to Early Next Year", "Guernsey's Pugliese Pop Culture Collection Auction: Las Vegas, NV – March 15-16, 2008"), this appears to be an interesting auction event, and the full catalog is now available to view online. It appears that movie-related memorabilia will be auctioned on the first day of the event, Saturday March 15th, in two sessions, while television and all other categories will be auctioned in two sessions on Sunday March 16th.
I received an e-mail today from Guernsey's informing me that the hard copy version of the catalogs would likely be mailed out today to those who have ordered them. Read more
According to multiple news/media reports (The Dallas Morning News: "Dallas' Heritage Auction sues Hollywood memorabilia dealers"; The Houston Chronicle: "Auction house files lawsuit over alleged bogus memorabilia"; The Fort Worth Star-Telegram: "Dallas auction house says it was conned into selling fakes"; and story originator WFAA-TV: "Dallas auction house claims multi-million dollar reputation damaged"), Heritage Auction Galleries filed suit on Wednesday in Dallas County District Court against Mississippi-based L.A. Prop & Wardrobe Co. and its owners, John Tarter and Billie Null.
According to The Houston Chronicle, the lawsuit filed yesterday "alleges fraud, negligent misrepresentation and breach of contract". The Chronicle story also claims that "a listing could not be found for L.A. Prop" and that "[m]essages left with the L.A. Prop officials listed in the lawsuit were not immediately returned Thursday." Read more
A second report was broadcast by WFAA TV's Channel 8, based on David Schechter's investigation into items consigned by L.A. Prop and Wardrobe Company and sold by Heritage Auction Galleries (see Heritage Auction Galleries & L.A. Prop & Wardrobe Company, WFAA Television News Report…, More on Heritage Auction Galleries, L.A. Prop & Wardrobe).
In this update, Mr. Schechter reports that Heritage Auction Galleries will "sue L.A. Prop for knowingly providing bogus items for sale and damaging the auction house's reputation".
Here is a link to the full video report at WFAA.com: Read more