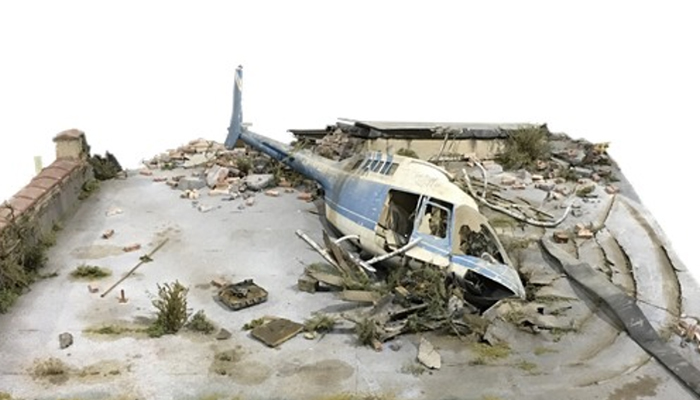 Premiere Props have listed their next auction as part of their "Hollywood Extravaganza XL". The one-day auction is scheduled for December 12th, marketing 500 lots. As with past auctions, the sale includes a mix of original props, costumes, and other film and television artifacts, as well as general Hollywood Memorabilia and a lot of replicas/reproductions/toys.
More details about the actual auction can be found on the official Premiere Props website at www.PremiereProps.com: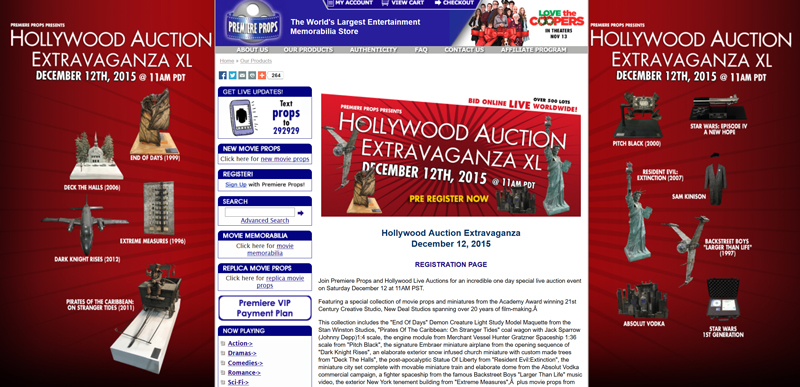 The auction event is scheduled to take place at the Premiere Props offices in El Segundo, California. Online bidding is available on
iCollector
,
Invaluable
, and
LiveAuctioneers
…
Below is the official press release for the event:
PREMIERE PROPS TO AUCTION OFF OVER 500 ITEMS FROM "STAR WARS", "JURASSIC PARK", "IRON MAN", "DARK KNIGHT RISES", "PIRATES OF THE CARIBBEAN: ON STRANGER TIDES", "MEN IN BLACK", "MEN IN BLACK 3", "ALIEN: RESURRECTION", "END OF DAYS", "NATIONAL TREASURE", "PITCH BLACK", "PLANET OF THE APES", "THE LONE RANGER", PUPPETS BY THE JIM HENSON TEAM AND MORE ON SATURDAY, DECEMBER 12, 2015

Premiere Props announced they will be auctioning off over 500 movie props and entertainment memorabilia including several miniatures from the Academy Award® winning 21st Century Creative Studio, New Deal Studios at their Hollywood Extravaganza Auction on Saturday, December 12, 2015 at their headquarters in El Segundo, CA. There will be a    preview from 9-11am PT with the live auction beginning at 11am PT.

Featured miniatures include:

"Iron Man" – The only remaining pair from a set of 3 Transformer Junction boxes and a pencil drawing of the Tokomak Transformer

"Dark Knight Rises" – The signature Embraer miniature airplane from the opening sequence

"Pirates Of The Caribbean: On Stranger Tides"  – The coal wagon with Jack Sparrow

"Men In Black" – The alien smuggling van and tractor trailer from the opening sequence

"Alien: Resurrection" – Space freighter Betty

"End Of Days" – The demon creature light study model maquette from the Stan Winston Studios

"National Treasure" – The treasure room including many of its artifacts discovered during Benjamin Franklin Gates climatic scene

"Pitch Black" – the engine module from merchant vessel Hunter Gratzner

Disneyland – Historic oil derricks made exclusively for the Epcot Center Universe of Energy ride

Backstreet Boys "Larger Than Life" music video – A fighter spaceship

Absolut Vodka – The miniature city set complete with movable miniature train and elaborate dome from a commercial campaign

"This is a great opportunity because it's like classic cars, they just don't make movies like this any longer", says Shannon Gans, CEO Co-Founder, New Deal Studios.  "This is your chance to own something that is handmade or hand drawn by the best artists in the industry."

"Entertainment memorabilia makes a wonderful holiday present", says Dan Levin, Executive Vice President, Premiere Props. "We are thrilled that we can offer collectors an amazing array of items this holiday season."

In addition other props to be auctioned off include:

"Star Wars" – 1st generation original 1977 ADR sound tape looping session recording and Episode IV's A New Hope Luke Skywalker artist proof edition lightsaber

"Jurassic Park" – Animatronic dinosaurs

"Men In Black 3" – Hero costumes worn by Will Smith, Tommy Lee Jones and Josh Brolin

"Planet of the Apes" – Life size figure from the 1968 film

"The Lone Ranger" -Clayton Moore's screen worn Lone Ranger pants

Sam Kinison – Overcoat and beret featured on the "Louder Than Hell" album cover and worn on "Saturday Night Live" in December 1985

Puppets – Life size movable puppets from the creators of the Muppets

Fans can starting bidding now, placing bids online at http://www.icollector.com/ and http://www.liveauctioneers.comor calling to set up phone bidding with a Premiere Props representative.

Collectors can place proxy bids until the Hollywood Extravaganza Auction goes LIVE at 11am PT on Saturday, December 12, 2015.

For more information, please visit http://www.premiereprops.comor http://www.hollywoodliveauctions.comor call (310) 322-PROP / (888) 761-PROP.
Jason DeBord