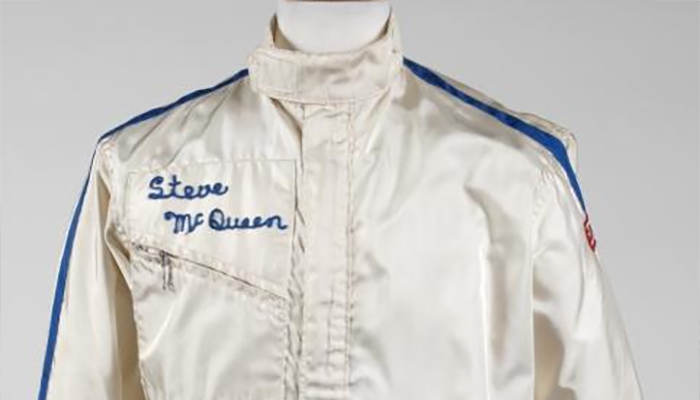 Julien's Auctions' "Icons & Idols: Hollywood" will be held on December 16th at the Julien's Auctions Beverly Hills showroom.  A public exhibition will run December 14th to 16th.
Full details can be found on the official Julien's Auctions website at www.JuliensAuctions.com: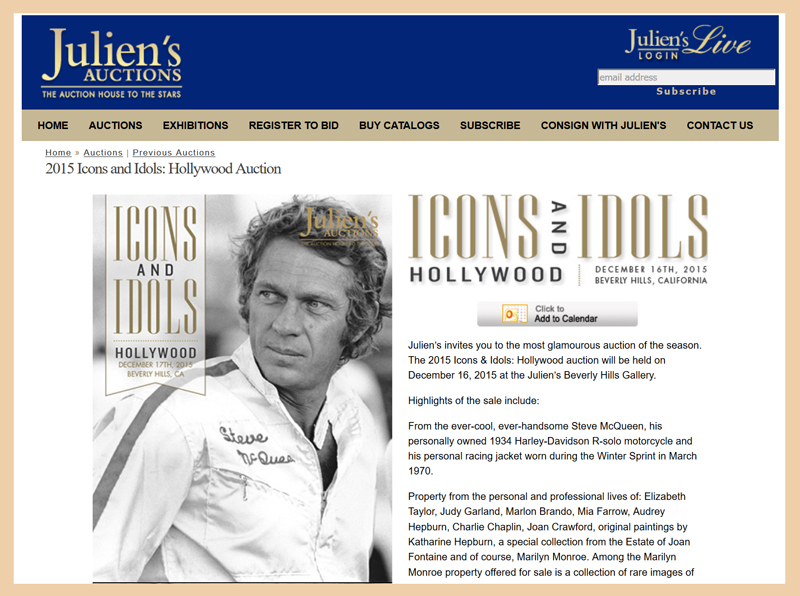 You can view the items online at
Julien's Live
,
browse the online catalog, or download the PDF version of the catalog
.
Below is the official press release about the sale:
Julien's invites you to the most glamourous auction of the season. The 2015 Icons & Idols: Hollywood auction will be held on December 16, 2015 at the Julien's Beverly Hills Gallery.

Highlights of the sale include:

From the ever-cool, ever-handsome Steve McQueen, his personally owned 1934 Harley-Davidson R-solo motorcycle and his personal racing jacket worn during the Winter Sprint in March 1970.

Property from the personal and professional lives of: Elizabeth Taylor, Judy Garland, Marlon Brando, Mia Farrow, Audrey Hepburn, Charlie Chaplin, Joan Crawford, original paintings by Katharine Hepburn, a special collection from the Estate of Joan Fontaine and of course, Marilyn Monroe. Among the Marilyn Monroe property offered for sale is a collection of rare images of the beautiful star taken by Bruno Bernard and her 1956 signed certificate of conversion to Judaism upon her marriage to Arthur Miller.

Props and costumes from acclaimed films and television series: The Ten Commandments, Singin' In the Rain, Cleopatra, All in the Family, The Brady Bunch, The Carol Burnett Show, The Big Lebowski, and many more.

A collection of photographs and scripts from the career of Hollywood Assistant Director Ad Schaumer active from 1928-1966.  The scripts include some of the oldest Julien's has ever offered and features one with comments from Darryl Zanuck about the film Under Two Flags.

For the science fiction fans we offer an array of original costume design sketches from Star Trek: The Next Generation, Anakin Skywalker's braid from Star Wars Episode II, a Dolph Lundgren Masters of the Universe costume and property from all of your other favorite universes.

Julien's is proud to present this wide reaching collection from every age of Hollywood.  Join the bidding and the celebration of stars!
Jason DeBord