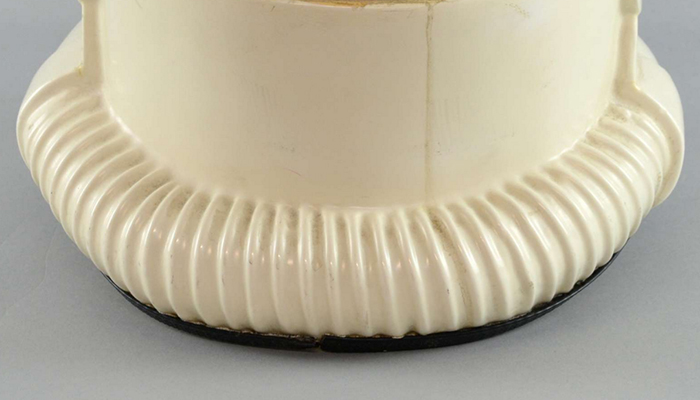 Following last month's public auction offering of one of the "prototype" Star Wars stormtrooper helmets by Profiles in History (that went unsold), Ewbank's has now offered one for sale in their own auction on December 3rd…  Upon examination of the photos, it would appear to be the same one that Christie's withdrew from their own sale last year (with Nate D. Sanders withdrawing their own example from their own auction just one month after Christie's). 
I've been tracking the public auction of prop helmets characterized as "prototype" stormtrooper helmets made for Star Wars: A New Hope for many years now, going back to 2008 wherein I first published an analysis of these helmets floating around the marketplace at the time, as well as some context with regards to their maker, Andrew Ainsworth. In the same article, I published archives of some of the past offerings of these helmets at public auction.  I thought maybe we'd seen the last of these following a lot of public controversy, but auction houses continue to put these up for sale.
Below is a chronological listing of the pertinent articles published on the Original Prop Blog about the "prototype" stormtrooper helmets over the past seven years (see category: "Prototype" Stormtrooper Helmets (AA, Andrew Ainsworth)):
The first appearance of these "prototype" helmets that I am aware of was with a 2002 sale by Christie's, who claimed that the helmet was "made for the 1977 20th Century Fox/Lucasfilm production Star Wars; accompanied by… a letter concerning the provenance" and that the "lots are the property of Andrew Ainsworth who set up Shepperton Design Studios in 1974…"
So it was the maker of the helmets – Andrew Ainsworth himself – who said that they are "prototype" helmets.
Below is the Profiles in History description for their helmet that failed to find a buyer in the most recent auction (Hollywood Auction 74, Lot 1151):
1551. Star Wars "Ridgeback" Stormtrooper helmet. (TCF, 1980) A vintage period Stormtrooper Helmet constructed by Shepperton Design Studios, who fabricated many of the helmets for production use in Star Wars: Episode IV – A New Hope, including the Stormtroopers. Initially it was presumed that this variation of Stormtrooper helmet was a prototype manufactured before the final screen used versions in A New Hope, but it is now widely accepted that a handful of such helmets were made between 1977-1979. The key differences with this helmet to the screen used versions are its three-piece design and serrated neck.
$10,000 – $15,000
I'm not sure what grouping of people widely accept that the "prototype" helmets were "made between 1977-1979″ (this is the first I've ever heard it suggested), but another problem is that the person who purportedly created it is on record stating that these were "prototypes" that he made prior to or during production (for a film released in 1977). And further, the conundrum would be that only Ainsworth could authenticate it as made by him, yet at the same time, it would appear that Profiles in History and Andrew Ainsworth are not on the same page on the fundamentals of what it is and when it was made.
In any event, it did not sell (in spite of revising the history of what it is supposed to be and making up a new name for it).
Below is the auction description for Ewbank's current sale:
Star Wars Imperial Stormtrooper helmet from 1977, unfinished and produced from white vacu-formed plastic and rubber detail, made by Andrew Ainsworth. Andrew Ainsworth made the original Stormtrooper helmets for the 1977 movie.

Provenance: Purchased from Andrew Ainsworth by the current vendor in 1977 for £5.50 and believed to be of a small number of 'unfinished' models. The painted grey & black areas were added later by a friend for a fancy dress party. The piece comes with a letter from Andrew Ainsworth stating it was made by himself, signed & dated in 2013, & a letter from the current vendor stating he bought it in 1977 and has remained in his possession since.

£1,500 – £2,500
Below are images pulled from the current auction listing:
Below is a comparison between the 2014 Christie's auction and the current 2015 Ewbank's auction… the Christie's photo was actually taken by a friend of mine when it was on display, not the official Christie's photography, and you can see the matching and distinct marks on the back: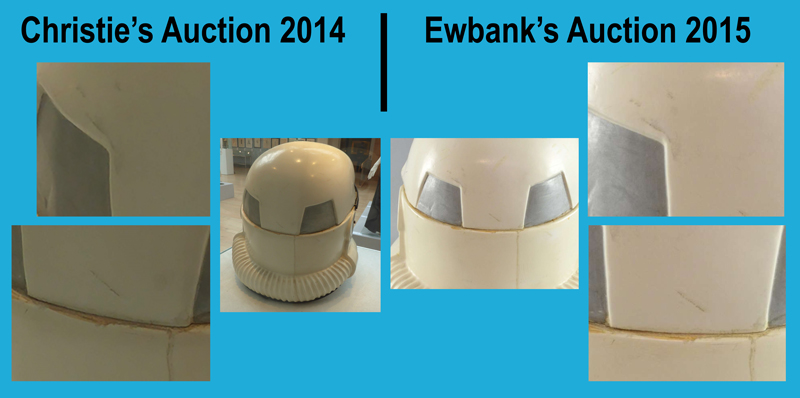 Below is the description published by Christie's in their auction of the same helmet last year (their online listing has since been stricken from their website, but you can reference my recording of it in my article published at the time):
Star Wars: A New Hope, 1977
A prototype Imperial Stormtrooper's helmet, the unfinished helmet of white vacu-formed plastic with black rubber brow trim and simulated vents, the vents and mouth later painted, made for the 1977 20th Century Fox/Lucasfilm production Star Wars: A New Hope; accompanied by a document concerning the provenance from Andrew Ainsworth

Lot Notes

Star Wars Costume Designer, John Mollo, asked Andrew Ainsworth of Shepperton Design Studios to work on the film after discovering that they had the equipment needed to make the specialised vacuform plastic. To this end, with a frenetic deadline, they worked around the clock in their design studio from March – June, 1976 whilst filming was being carried out at Pinewood Studios. At that time, the huge success of Star Wars had not been anticipated and the making of the costumes was very much a process of trial and error.

According to Andrew Ainsworth, this is one of approximately five prototype helmets that were made when Shepperton Design Studios were experimenting with white vacuform plastic to make the first Stormtrooper helmets in 1976. They initially made six helmets out of khaki-coloured plastic and when they realised that design was not entirely satisfactory, they then made these prototypes to experiment with the different material. The serrated edge at the back of this helmet was abandoned for the following batch of helmets as it was too difficult to mould.

According to the vendor, he purchased this helmet at Shepperton Design Studios, Twickenham in 1977.

Estimate

£3,000 – £5,000
($5,085 – $8,475)
Interesting that the Christie's auction did not mention that "[t]he painted grey & black areas were added later by a friend for a fancy dress party", as disclosed today by Ewbank's.
Also interesting that this sale includes a 2013 letter from Andrew Ainsworth, stating:
Early Stormtrooper prototype

I confirm that the Stormtrooper helmet as shown to me today by the representative from Christies was an early prototype made by myself.  The helmet was made in three parts with serated back.
He himself calls it a "prototype" (not a "ridgeback" as reinvented by Profiles in History), but with those two short sentences does not provide much information…
As posed in my article of about a month ago… will we see these come up for public sale in the marketplace again in the future, given that quite a few are floating around in private hands? Probably. But given the public confusion and controversy surrounding these pieces, I believe it is in the public interest to collect and host information that is publicly available to benefit those who wish to do additional research, given that these are typically offered for sale for thousands of dollars.
Jason DeBord