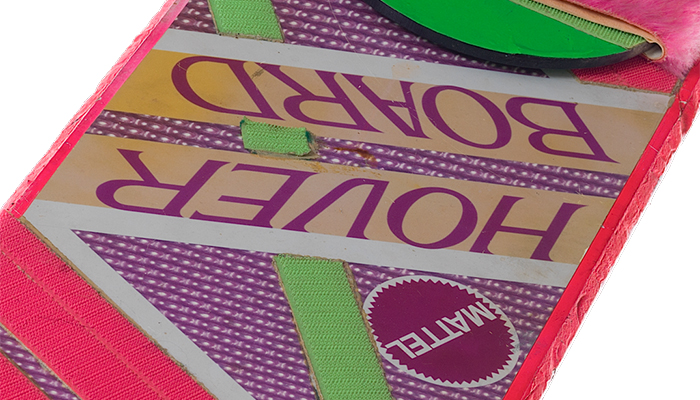 ScreenUsed, an online dealer who built some of their initial inventory back in the day on incredible material from the Back To The Future film franchise, will be holding two auctions this month in conjunction with the celebration of the 30th Anniversary of the first movie.  In partnership with BackToTheFuture.com and WereGoingBack.com, they will have a live auction in Los Angeles on October 24th and an online-only auction concluding a week later on October 31st.  The live auction will take place at the Hollywood United Methodist Church gym, the filming location of the famous "Enchantment Under The Sea" dance in the original film.
You can learn all about the sale on the official ScreenUsed website at www.ScreenUsed.com: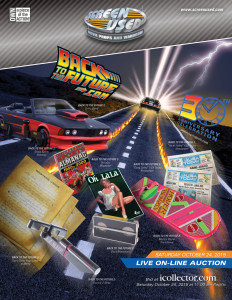 You can download the PDF version of the catalog here: 
LINK
Online bidding is handled by iCollector.
Below is the press release for these special auctions:
ScreenUsed Live and On-Line Back to the Future 30th Anniversary Celebration Auction Slated for October 24, 2015

San Jose, California – October 1, 2015 – ScreenUsed, in partnership with WereGoingBack.com and BackToTheFuture.com, have announced a live and online auction during the 30th Anniversary Celebration of the Back to the Future franchise in Los Angeles. This is the biggest Back to the Future memorabilia auction in history!

The auction has two components:

Props, Wardrobe, and Production items – Over 125 artifacts that were actually used in the making of the Back to the Future movies. This auction runs from now through October 24th, and ends with a live auction at the actual filming location of the Enchantment Under the Sea dance from the movies – the Hollywood United Methodist Church gymnasium, located at 6817 Franklin Ave, Los Angeles, CA 90068. Everyone is welcome to attend the auction which starts at 11:00am. We will have some of the actors from the trilogy there at the auction. The auction will also run online as usual.

Vintage Merchandise and Memorabilia – this auction runs from now through October 31st, and is an online timed auction. With over 2,000 items in about 370 lots, all items start at only $5. All of the items are absolutely worth more than the starting bid, and as usual with our ScreenUsed auctions, there are no reserves! We highly recommend that you pick up the following book for reference on the Merchandise items: Back to the Future: Almanac 1985-2015 Official Collector's Guide – (www.bttfalmanac.com also available at BTTF.com – https://www.bttf.net/ProductDetails.asp?ProductCode=978-0-9904255-8-8).

There are no reserves on our lots; the starting price is where the auction starts. Here are some highlights from the auction:

– Marty's Mattel Hoverboard
– Griff's Future BMW
– Lyon Estates Gates
– Doc's Future Binoculars
– Grays Sports Almanac
– Doc's Sleep-Inducing Alpha-Rhythm Generator
– Collection of Original Production Call Sheets
– Comprehensive Production Used Scripts
– USA Today Newspaper "Youth Jailed"
– USA Today Newspaper "Gang Jailed"
– Clara Clayton's Dress (Mary Steenburgen)
– Doc's Three Page Letter to Marty
– Oh LaLa Magazine
– Barcode License Plate
– Future Police Baton

A portion of the proceeds from the auction will go to the Michael J. Fox Foundation for Parkinson's Research. For a PDF catalog, to view the lots, register for the auction, and all other information, please visit www.BTTFbid.com.

About ScreenUsed:

ScreenUsed was founded in 2003 by Desi DosSantos, a computer center automation specialist and Jeff Castillo, a quality, custom home craftsman & fabricator. What began as a hobby for the pair, blossomed into a company now world renown as an industry leader in the field of original Film & Television production memorabilia sales (props, costumes, miniatures, special make-up effects artifacts, production artwork, rare documents, etc.). With a combined 34 years in the business of brokering historic Hollywood artifacts, ScreenUsed offers a wide range of special services to its clients, including research, preservation, exhibition, and to corporate clients specialized marketing, promotion & auction services. The company's established international network of collectors and entertainment industry sources is highly regarded by the field, museums and the media.

Contact:

Desi DosSantos, Co-Owner
ScreenUsed
408-268-1735
desi@screenused.com
http://www.ScreenUsed.com
Jason DeBord