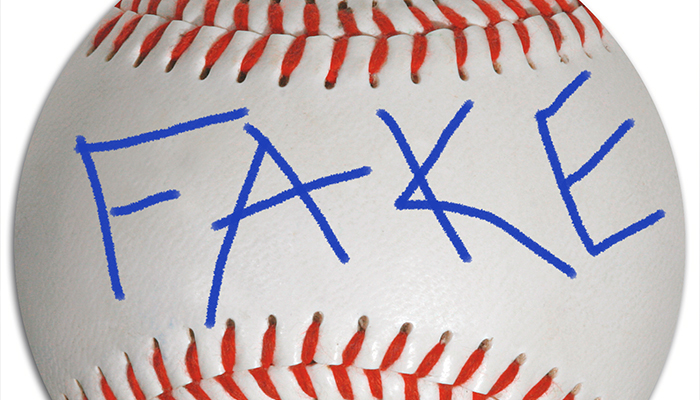 Local mainstream media outlets in Youngstown, Ohio are reporting on "what investigators say is the biggest case of domestic fraud in the history of the online auction site eBay".  Of course, sports memorabilia is the fraud that was targeted, not entertainment memorabilia…  the story by WFMJ states that the "alleged enterprise involving phony autographs on sports memorabilia… cheated 25,000 people out of more than $2-million dollars".  Hopefully, someday, law enforcement will investigate the long term eBay dealers that have been selling common antiques like plates and telephones and ashtrays attributed to classic television shows and movies (which, like the fake sports memorabilia with forged autographs, include worthless COAs from companies with the worst reputations in this art market).
With this latest sports fraud found on eBay, four men have pleaded guilty – Daniel Martini to money laundering and James Serenko, Jason Lenzi, and Shawn Pelo to engaging in a pattern of corrupt activity.  The four get a slap on the wrist, being placed on probation, for cooperating with the investigation.  I guess crime does pay (and eBay is happy to collect on the fees).  As this is only being reported in the local market, most of those scammed will never know, and the same fake memorabilia will continue to trade in the marketplace.  Of course, eBay has the ability to contact every person who has bought items in their auctions, using the identified fraud accounts, but will they do this?  Has anyone in the mainstream media or law enforcement even raised the question with eBay, who has profited on the sale of potentially millions of dollars in merchandise via their auction platform?
The article reports that others involved in the scheme "could face jail time".
You can read all about it via the following links:
Daniel Martini of Martini's bar is the subject of a yet to be broadcast episode of Bar Rescue on Spike TV.
Participants in collecting original movie props, costumes, and other authentic memorabilia from film and television are all too familiar with similar scams that run rampant in this art market, especially on eBay – see the investigation I was involved with back in 2008, as reported on by the Los Angeles Times:  LINK
Jason DeBord