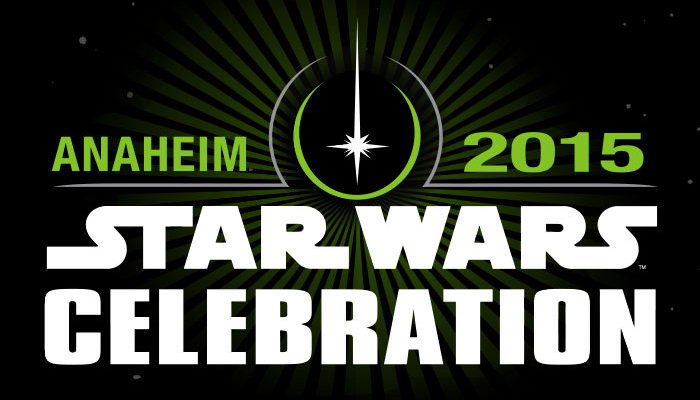 Star Wars Celebration, the world's only official Star Wars convention, is coming to Anaheim, California from April 16th to 19th.  It is anticipated that 150,000 fans will be in attendance, which rivals San Diego Comic Con numbers.  With much to see and do and a focus on the upcoming Star Wars Episode VII: The Force Awakens, there is still quite a bit to look forward to for those focused on original props and costumes.  I've gone through the published scheduled and put together the highlights below, which might be of interest to readers of the Original Prop Blog who also are fans of Star Wars.
The full schedule can be found at the official website for Celebration 2015 in Anaheim at www.starwarscelebration.com.  This list of highlights below is focused on collecting original movie props, costumes, and artwork.
DAILY THURSDAY – SUNDAY
The Rancho Obi-Wan Experience with Steve Sansweet
See treasures from the largest private Star Wars collection in the world and meet Steve Sansweet!
THURSDAY 1:00 PM – 2:00 PM
Star Wars Costumes: The Original Trilogy
Lucasfilm executive editor J.W. Rinzler Brandon Alinger, author of Star Wars Costumes: The Original Trilogy and Delia Greve, senior editor at Becker Mayer discuss the costumes of the three films that started it all. Learn about George Lucas' concepts for the outfits in his films, and the many concept artists, costume designers, fabricators and artisans who brought them to life. The behind-the-scenes style discussion will focus on the unique challenges and triumphs of the costume departments for A New Hope, The Empire Strikes Back, and Return of the Jedi. Also included will be additional photography shot for Star Wars Costumes: The Original Trilogy.
THURSDAY 4:30 PM – 5:30 PM
Star Wars Comic Art
This year marks the triumphant return of Star Wars to Marvel Comics. First published back in 1977 as a way to promote the film, Star Wars comics have been published almost continuously since then unitizing the skills of some of the best names in the comic industry to create a series of beloved tales. From Howard Chaykin to Al Williamson, from Travis Charest to Adam Hughes, every Star Wars comic starts with pen and ink on a piece of illustration board and these original drawings have become increasingly collectible. Come hear and learn all about collecting original Star Wars comic art with collector and Curb Your Enthusiasm writer/director David Mandel plus some special guests.
FRIDAY 11:30 AM – 12:30 PM
Ralph McQuarrie: Star Wars Art
Lucasfilm executive editor J.W. Rinzler, Abrams senior editor Eric Klopfer and authors Brandon Alinger, David Mandel and Wade Lageose discuss the seminal Star Wars artist and the upcoming book on his work. The new Abrams publication, set for release in Spring 2016, will be the most comprehensive volume of Ralph McQuarrie's extensive Star Wars work ever assembled. McQuarrie's long history with Lucasfilm will be covered in the discussion, from his early days working directly with George Lucas through the publications he worked on in the mid-90s. The team will talk about the process of creating the coffee-table book and show many highlight artworks in this exclusive preview.
FRIDAY 1:00 PM – 2:00 PM
Secrets of the Mos Eisley Cantina
Returning to Star Wars Celebration are expert "cantinarcheologists" Tom Spina (Tom Spina Designs) and Pablo Hidalgo (Lucasfilm) as they continue to uncover more secrets of the most famous watering hole in the galaxy. See rare, never before seen images from the set and behind-the-scenes, hear from the crew that made the cantina possible, and get a rare chance to influence Star Wars canon with the naming of a previously unnamed cantina being!
SATURDAY 3:00 PM – 4:00 PM
Star Wars Original Props and Costumes
Experience the stories behind the discovery and preservation of the most amazing film-used original Star Wars props and costumes in private hands! Featuring in-depth spotlight discussions about key props and collections, slideshows filled with newly uncovered production artifacts, and the chance to ask questions of the panelists, this presentation is not to be missed! Sharing their decades of experience will be collectors Brandon Alinger and Stephen Lane, of the Prop Store's LA and London offices, Star Wars collector Gus Lopez, and Tom Spina, effects artist and movie prop conservation and display specialist.
Jason DeBord