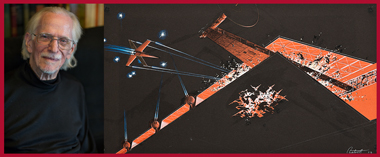 Colin Cantwell, who has an incredible career in science and the arts, will be doing an exclusive meet and greet at Julien's Auctions on Friday, December 5th from 1:30 to 3:00.  Colin Cantwell famously made the first prototype models for George Lucas back in 1974/1975; the first realizations for the X-Wing Fighter, the Y-Wing Fighter, the Tie Fighter, the Star Destroyer, the Death Star, the Landspeeder, the Sandcrawler, and the Millennium Falcon, as well as the T-16 Skyhopper.  His original, never before seen concept artwork from 1974/1975 will be up for auction at Julien's Auctions on Saturday, December 6th at 10 AM, as well as other artifacts from his work on 2001: A Space Odyssey, Close Encounters of the Third Kind, Omnimax/IMAX, Battlestar Galactica, Buck Rogers in the 25th Century, and WarGames, as well as the mission plans from his work with NASA and CBS on the Apollo XI moon landing mission in 1969.  At 82 years old, this is Mr. Cantwell's first meet and greet and autograph signing, so a very rare opportunity to meet a legend in classic science fiction film and television.
The meet and greet will be held by Julien's Auctions at their Beverly Hills gallery on Friday, December 5th from 1:30 – 3:00:
Julien's Auctions
9665 Wilshire Boulevard (cross street North Bedford Drive)
Suite 150
Beverly Hills, CA 90210
Autographs will be available for a separate charge.
The Colin Cantwell Collection will also be on display, providing an opportunity to view this rare memorabilia, including his conceptual artwork created in 1974/1975 for Star Wars: A New Hope, which was just rediscovered and has never before been shown to the public.  As it is being sold at auction, this is likely the first and last time these rare artifacts will be put on display for the public.
You can check out my full article about Colin Cantwell, his work, and over two hours worth of video interviews over by clicking through below: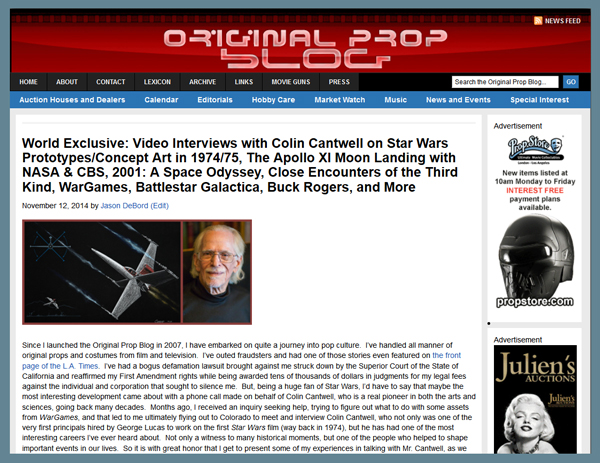 The Colin Cantwell Collection of memorabilia will be sold on Saturday, December 6th at the same location.  You can learn more about this collection at the official Julien's Auctions site as well as via this PDF showcasing his section of the catalog.
UPDATE 12/4…
Below is a photo I took of Colin Cantwell amongst the first public display of his original Star Wars concept artwork and other memorabilia at Julien's Auctions and their VIP reception last night: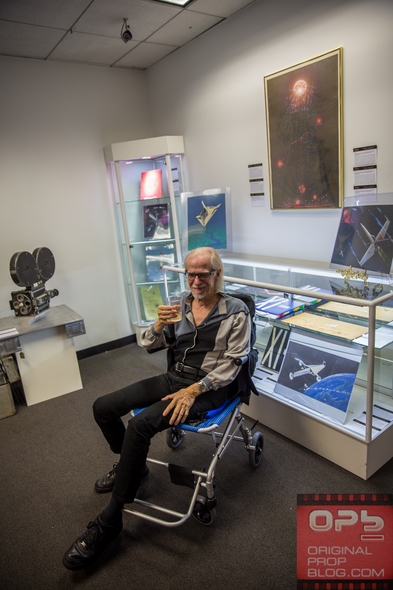 Jason DeBord