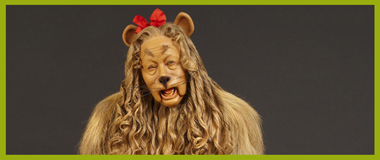 Later this month, Bonhams will be holding their follow-up to last years, "What Dreams Are Made Of: A Century of Movie Magic at Auction as Curated by Turner Classic Movies".  On November 24th, again in conjunction with Turner Classic Movies, they will host the "TCM Presents… There's No Place Like Hollywood" live auction  New York (and simulcast in Los Angeles) on November 25th. TCM will "make a contribution to support The Film Foundation, an organization dedicated to protecting and preserving motion picture history".
With an emphasis on classic Hollywood, there are a number of highlights including property from the Estate of Moe Howard, a screenplay for "Everybody Comes To Rick's" (which would become Casablanca), the piano on which Sam played "As Time Goes By" in Casablanca, Bert Lahr's Cowardly Lion costume from The Wizard of Oz, Clark Gable's riding jacket from Gone With The Wind, Theda Bara's vulture headpiece from Cleopatra, Rita Hayworth's costume from Gilda, a Marilyn Monroe saloon gown from River of No Return, Saruman's staff from Lord of the Rings, and property from the collection of Rick Baker.
Of course, a Bonham's auction would not be complete without a fertility idol attributed to Raiders of the Lost Ark…  This will be addressed in a separate article (LINK).
The online auction catalog for the sale can be viewed at Bonhams.com: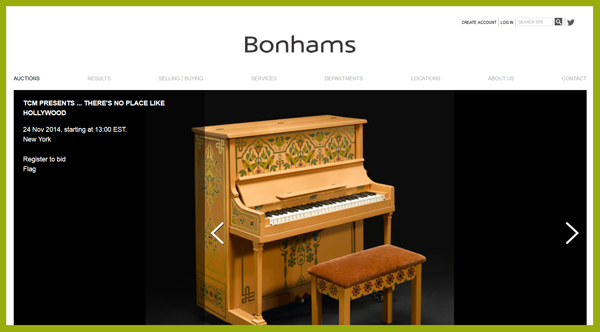 Below is a video promo for the sale:
Below is the official release about the sale from Bonhams:
Bonhams and TCM to Follow Up Historic 2013 Auction with November 2014 Event in New YorkCostumes from The Wizard of Oz (1939) and Gilda (1946) Among Big-Ticket Items on the Block for TCM Presents: There's No Place Like Hollywood AuctionDorothy dressTurner Classic Movies (TCM) and fine arts auction and appraisal house Bonhams are set to raise the bar once again on movie memorabilia auctions following last year's historic and record-breaking event. TCM Presents: There's No Place Like Hollywood, a definitive auction of rare movie memorabilia, is set to take place Monday, Nov. 24, in New York. Among the many noteworthy items available for bid are a test dress and pinafore designed for Judy Garland in The Wizard of Oz (1939), an Adrian-designed test cape for The Wizard of Oz's flying monkeys, one of Jane Russell's costumes from the Howard Hughes-produced The Outlaw (1943), a costume worn by Rita Hayworth while singing "Amado Mio" in Gilda (1946) and costumes worn by Barbra Streisand in the films On a Clear Day You Can See Forever (1970), The Way We Were (1973) and Yentl (1983). Numerous other items, including some big surprises, are currently being procured for the auction. As part of the event,TCM will make a contribution to support The Film Foundation, an organization dedicated to protecting and preserving motion picture history.Last November, TCM and Bonhams teamed up on their first auction together, the highly successful What Dreams Are Made Of: A Century of Movie Magic at Auction, as Curated by Turner Classic Movies. The auction included such items as the 1940 Buick Phaeton featured in the dramatic final scene of Casablanca and a Maltese Falcon statuette used in John Huston's classic film, which set a new milestone for a movie prop by drawing a record-setting bid of over $4 million.In addition to the many costume pieces already lined up, this year's auction will include a full-length portrait of silent screen star Rudolph Valentino painted by Freerico Armando Beltrán Massés in1925 as the Black Falcon, painted by Federico Armando Beltrán Massés in 1925, and a copy of the Touch of Evil (1958) screenplay owned by producer Albert Zugsmith.In the months leading up to this year's auction, movie fans will have the opportunity to see the items up for bid. Bonhams will hold preview exhibitions prior to the auction at its locations in New York (Nov. 20-24) and Los Angeles (dates tbd). As one of the leading authorities on classic film, TCM will once again curate this year's auction, highlighting the fascinating stories behind the memorabilia and providing the cultural and historical context for each remarkable treasure.flying monkey cape"Through TCM's events with Bonhams, classic movie lovers have the opportunity to get an up-close look at items they have previously only seen on the screen or in photos, while also learning some of the fascinating stories behind the items up for bid," said Dennis Adamovich, senior vice president of digital, affiliate, lifestyle and enterprise commerce for TCM, TBS and TNT. "This is also a great way to shine a spotlight on tremendous preservation and restoration efforts of The Film Foundation."

"Last year's event was a historic event featuring some of the most remarkable items Bonhams has ever had on its auction block," said Dr. Catherine Williamson, director of Entertainment Memorabilia for Bonhams. "We are proud to be teaming up with TCM once again for another spectacular auction celebrating classic Hollywood cinema."

Bonhams recently returned for the third year as an official partner of the TCM Classic Film Festival. As part of its sponsorship each year, Bonhams hosts a valuation session for select festival passholders on the final day of TCM's annual star-studded gathering. In addition to its complimentary appraisals at the TCM Classic Film Festival, Bonhams hosted an early preview of highlights from upcoming auctions, including rare collectibles associated with festival programming.

Information about the "There's No Place Like Hollywood" auction is available online at www.bonhams.com/tcm. Movie memorabilia owners who would like to consign items for "There's No Place Like Hollywood" should contact Bonhams at entertainment.us@bonhams.com or (323) 436-5467. The consignment deadline for the auction is August 15.

About Bonhams

Bonhams, founded in 1793, is the world's third largest auctioneer of fine art and antiques. The present company was formed by the merger in November 2001 of Bonhams & Brooks and Phillips Son & Neale. In August 2002, the company acquired Butterfields, the principal firm of auctioneers on the West Coast of America. Today, Bonhams offers more sales than any of its rivals, through two major salerooms in London: New Bond Street and Knightsbridge; and a further three in the UK regions and Scotland. Sales are also held in San Francisco, Los Angeles, Carmel, New York and Connecticut in the USA; and Germany, France, Monaco, Hong Kong and Australia. Bonhams has a worldwide network of offices and regional representatives in 25 countries offering sales advice and valuation services in 60 specialist areas. For a full listing of upcoming sales, plus details of Bonhams specialist departments go to www.bonhams.com.

Connect with Bonhams

Auction Website: www.bonhams.com/tcm
Bonhams Website: www.bonhams.com
Twitter: twitter.com/bonhams1793

About The Film Foundation

Created in 1990 by Martin Scorsese, The Film Foundation is dedicated to protecting and preserving motion picture history. By working in partnership with the leading archives and studios around the globe, the foundation raises awareness of the urgent need for preservation and has saved over 620 films. In addition to the preservation, restoration, and presentation of classic cinema, the foundation teaches young people about film language and history through The Story of Movies, the organization's groundbreaking educational curriculum that is used by over 100,000 educators nationwide. Joining Scorsese on the board of directors are Woody Allen, Paul Thomas Anderson, Wes Anderson, Francis Ford Coppola, Clint Eastwood, Curtis Hanson, Peter Jackson, Ang Lee, George Lucas, Alexander Payne, Robert Redford, and Steven Spielberg. The Film Foundation is aligned with the Directors Guild of America.

Connect with The Film Foundation

Website: film-foundation.org
Facebook:  www.facebook.com/TheFilmFoundation
Twitter: twitter.com/Film_Foundation

About Turner Classic Movies (TCM)

Turner Classic Movies (TCM) is a Peabody Award-winning network that presents great films, uncut and commercial-free, from the largest film libraries in the world. TCM, which is available in more than 85 million homes, features the insights of hosts Robert Osborne and Ben Mankiewicz, plus interviews with a wide range of special guests. Currently in its 20th year as a leading authority in classic film, TCM offers critically acclaimed original documentaries and specials; film series like The Essentials, hosted by Robert Osborne and Drew Barrymore, and Friday Night Spotlight; and annual programming events like 31 Days of Oscar® in February, Summer Under the Stars in August and TCM Essentials Jr. during the summer. TCM also connects with movie fans through such events as the annual TCM Classic Film Festival in Hollywood and the TCM Classic Cruise, as well as through the TCM Classic Film Tour in New York City. In addition, TCM produces a wide range of media about classic film, including books and DVDs, and hosts a wealth of material online at tcm.com and through the Watch TCM mobile app.

TCM is part of Turner Broadcasting System, Inc., a Time Warner company. Turner Broadcasting creates and programs branded news; entertainment; animation and young adult; and sports media environments on television and other platforms for consumers around the world.

Connect with Turner Classic Movies

Website: www.tcm.com
Pressroom: pressroom.turner.com/us/tcm
Facebook: facebook.com/tcmtv
Twitter: twitter.com/tcm | twitter.com/tcmpr
TCM Store: shop.tcm.com
Watch TCM app available for iOS and Android Platforms.
Jason DeBord