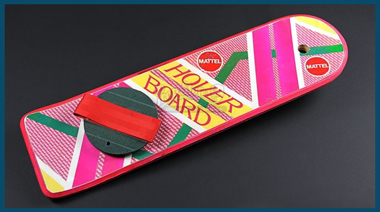 Prop Store will be holding their first live auction event in London on October 16th. The auction catalog is now available online via a PDF download and interactive catalog via their official website and collectors can bid through PropStore.com. Prop Store has been one of the few "quality" dealers in this market for many, many years, with a reputation to match, so seeing them get into the live auction "event" side of the business is a very positive development in my personal opinion.  They have put together an excellent assortment of items for this auction (many of which have not been seen before and/or auctioned in public before) and the reserves are very, very reasonable (no "jackpot" reserves/estimates as I frequently complain about).  The catalog is impressive (in design and layout), and they are including a standardized COA with each item.  The online listings show many high quality images of each item.  I think if you read the letter at the front of the catalog, you will see that Stephen Lane and Prop Store have a different set of experiences and perspectives on collecting compared with most other auction houses – there is passion and understanding as collectors.  I wish them the best in their new endeavor.  Hopefully their entrance to this arena will motivate other auction houses to improve their own businesses.  I think collectors have been complaining about a number of facets of this business, and Prop Store has listened and addressed many of them with their first big auction, and I know that they are receptive to feedback and will build on what I expect will be a successful first event.
Prop Store will be holding it's first live auction on October 16th, at Vue Westfield in London following a two week exhibition at Vue's flagship cinema in Westfield, London.  With 375 items set to hit the auction block, highlights include material from some of the top sci-fi and action film franchises including James Bond, Star Wars, Back to the Future, Terminator, Batman, and more.
There is a 20% buyer's premium on items, with an additional 3% if purchased online (plus VAT if applicable).  All funds must be paid in GBP.
Details and links can be found at www.PropStore.com:

Jason DeBord