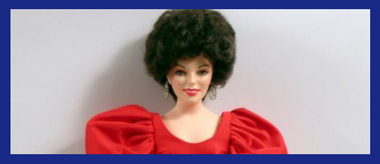 Premiere Props have listed their next auction with online bidding partners iCollector, Invaluable (formerly ArtFact), and proxibid (replacing LiveAuctioneers) as part of their "Hollywood VIP Auction III". The two-day auction is scheduled for August 23rd.  As with past auctions, the sale includes a mix of original props, costumes, and other film and television artifacts, as well as general Hollywood Memorabilia, all in no order or rhyme or reason apparent as to sequence or grouping. "Movie Props DNA (MPDNA)", which seems to come and go with these sale events, is no where to be found in the lot descriptions this time around save for two lots (Lot #183 and Lot #224) out of more than 500.
As an example, the following is found in one of the item descriptions with regards to "Movie Props DNA":
This item has been authenticated and marked with new technology by Movie Props DNA to prevent against fraud and counterfeiting. A panel of industry experts not affiliated with Premiere Props in the movie & TV memorabilia business has authenticated this item. This item now includes three levels of security: 1) DNA laced invisible ink – a 9-digit code laced with DNA ink is placed on an appropriate place of the prop/costume and can be only viewed using a high-frequency UV light. The chances of replicating the specific DNA sequence which is unique to MPDNA is 1 in 33 trillion. This DNA sequence is so secure it is admissible in a court of law.?? 2) Archival Microchip Encrypted Tag – a patented, acid-free, 1″x 3″ tag with an encrypted microchip is placed onto the Certificate of Authenticity. The microchip contained within the tag contains all of the pertinent information about the prop or costume. The tag is tamper proof and the microchip is encrypted, making it impossible to duplicate.? 3) The certificate also has the 9-digit DNA invisible ink mark which must match the 9-digit invisible ink mark on the prop. This will ensure that it is a genuine prop issued by Premiere Props and authenticated by MPDNA.
As reported in September of last year, www.moviepropsdna.com at that time redirected to www.mpgrading.com, but more recently in June returned a message of "The service is unavailable".
The www.moviepropsdna.com site is now live with new content, stating:
Don't get burned! Fake movie props are being sold all over the internet. How can you be sure that the one you are buying is real? How can you be sure the one you bought on the screen is the same one that is being sent to you? MPDNA has a panel of experts that will guarantee the props authenticity. We also use patented DNA technology that matches the Prop to the Certificate of Authenticity to insure you are getting a certified MPDNA prop.
There is a page of "Recently Authenticated Props", but when you click on any item for more details, you get this result:
Server Error in '/' Application.
The resource cannot be found.
Description: HTTP 404. The resource you are looking for (or one of its dependencies) could have been removed, had its name changed, or is temporarily unavailable. Please review the following URL and make sure that it is spelled correctly.

Requested URL: /~/Product.aspx

Version Information: Microsoft .NET Framework Version:4.0.30319; ASP.NET Version:4.0.30319.18446
The "About Us" link is dead (no hyperlink) and the "Panel of experts" mentioned on the main page is never identified.
More details about the actual Premiere Props auction can be found on the official Premiere Props website at www.premiereprops.com: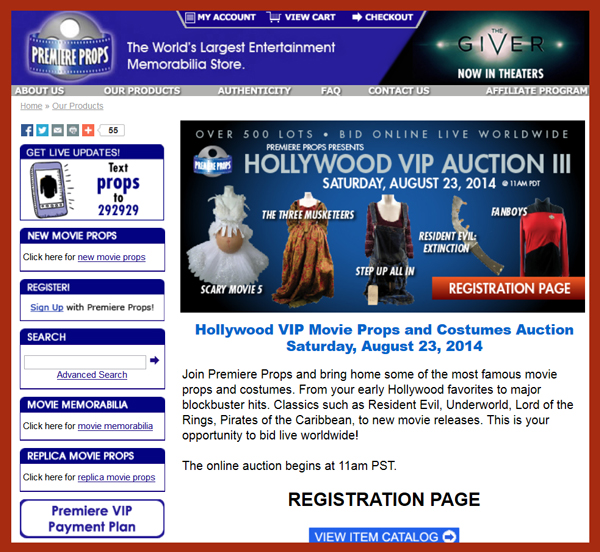 The auction event is scheduled to take place at the Premiere Props offices in El Segundo, California.
Jason DeBord