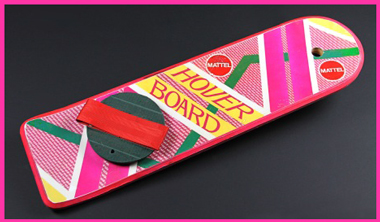 After 16 years in the business of selling original TV and movie props, costumes, and other Hollywood memorabilia, Prop Store will be holding it's first live auction on October 16th, at Vue Westfield in London following a two week exhibition at Vue's flagship cinema in Westfield, London.  With 375 items set to hit the auction block, highlights include material from some of the top sci-fi and action film franchises including James Bond, Star Wars, Back to the Future, Terminator, Batman, and more.  Prop Store has made the hardcover catalog available for pre-order on their site today.
It is great for this art market that a reputable dealer of this material – that puts time, effort, resources, and expertise into authentication – will be expanding to the live auction arena.
For more details, and to order the catalog, you can visit the official Prop Store site at www.propstore.com: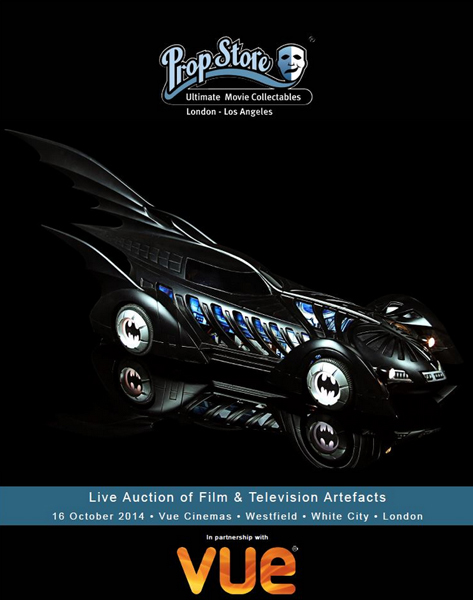 Below is the official release about the news from Prop Store:

For Immediate Release

£1m worth of original film & television props and costumes to be sold via live auction

LONDON, 9th July 2014: Prop Store is proud to announce it's partnered with Vue Entertainment to launch its first live auction. In the most exciting sale of its kind, Over 375 original film and television props and costumes will go under the hammer in October, at Vue's flagship cinema in Westfield, London. Members of the public will be able to get up close and personal with some of the most valuable and iconic pieces on offer via a free two week exhibition at Vue Westfield from 1st October.

With a catalogue to suit all budgets, one of the least expensive items up for grabs is a film crew jacket from the set of Star Wars: The Phantom Menace, estimated to go for an affordable £80, while the most lucrative prop being auctioned is the aluminum chair, designed as a concept for Dune, created by the late H.R Giger and is expected to fetch up to £80K.

Items included in the Lot and value estimates

Marty McFly's (Michael J. Fox) Hoverboard – Back to the Future: Part II – £14 – 18K
Captain Nemo's Nautilus Car – The League of Extraordinary Gentlemen – £40 – 60K
Batmobile Model Miniature – Batman Forever – £20 – 25K
The Terminator's Leather Biker Costume – Terminator 2: Judgment Day – £18 – 22K
Wonka's Golden Ticket – Willy Wonka and the Chocolate Factory – £15 – 20K
Scaramanga's Short Sleeve Shirt – James Bond: The Man with the Golden Gun – £5 – 7K

Stephen Lane, Prop Store Founder, said: "After 16 years in the film industry, selling movie props and costumes to collectors around the world, we're incredibly proud to announce our first ever live auction. We are delighted to be working in partnership with Britain's leading cinema chain, Vue, and the stunning and venue they are providing for the event. We've been working on this for many months and we plan to make it an event like nothing else before."

"The live auction will excite all those who view the treasures in the free exhibition at Vue Westfield and thrill those who participate in live auction itself. We are delighted to present an original movie prop and costume auction like no other."

Tim Richards, CEO of Vue Entertainment International said: "We're delighted to be hosting this amazing collection of film memorabilia – one of the biggest of its kind, at Vue Westfield. From serious collectors and keen investors to film fanatics and movie buffs, we are expecting a high level of interest from a whole host of people eager to grab a slice of real film history.

"It's the first time an auction on this scale has been held in a cinema, so it should make for an entertaining evening , while the exhibition will ensure that everyone who wants to get an intimate look at some of these amazing and iconic props can do so absolutely free!"

The Prop Store Live Auction in partnership with Vue Cinemas will take place at Vue Westfield in London on Thursday 16th October. Auction items will be on display at a free exhibition at Vue Westfield, open to the public from Thursday 1st October until Thursday 16th October.

About Vue Entertainment

Formed in May 2003, Vue Entertainment International is a world class operator and developer of modern state-of-the-art multiplex cinemas. Following the recent acquisition of the Apollo UK circuit in May 2012, the takeover of CinemaxX in July 2012 and the acquisition of Multikino in May 2013, Vue is now operating over 1,368 screens across 151 multiplex cinemas in 9 territories comprising the UK, Ireland, Germany, Denmark, Portugal, Poland, Lithuania, Latvia and Taiwan.

About Prop Store

Prop Store sells original movie memorabilia, with over 7,500 items available for sale on www.propstore.com.

Operating since 1998, Prop Store founder Stephen Lane's love for movies led him to begin hunting for the same props and costumes that were used to create his favourite films. He found that he could not only provide collectors with access to their most coveted pieces, but also establish archival standards for a new, pop-culture hybrid of fine art and memorabilia collecting – prop art.

Prop Store handles prop disposal, sale, archive and auction services to production companies and distributors as well as fixed price item sale on its website.
Jason DeBord