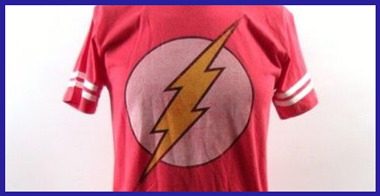 Premiere Props have listed their next auction with online bidding partners iCollector, LiveAuctioneers, and Invaluable (formerly ArtFact) as part of their "Hollywood Extravaganza XIV". The two-day auction is scheduled for June 21-22. As per usual, with less than a month before the sale, presumably a fraction of the full list of items have been put online as part of these auction catalogs. As with past auctions, the sale includes a mix of original props, costumes, and other film and television artifacts, as well as general Hollywood Memorabilia. "Movie Props DNA (MPDNA)", which appeared absent in recent sales, is back and noted within some of the lot descriptions.
As an example, the following is found in one of the item descriptions with regards to "Movie Props DNA":
This item also comes with a Movie Props DNA: This item now includes three levels of security: 1) DNA laced invisible ink – a 9-digit code laced with DNA ink is placed on an appropriate place of the prop/costume and can be only viewed using a high-frequency UV light. The chances of replicating the specific DNA sequence which is unique to MPDNA is 1 in 33 trillion. 2) Archival Microchip Encrypted Tag – a patented, acid-free, 1″x 3″ tag with an encrypted microchip is placed onto the Certificate of Authenticity. The microchip contained within the tag contains all of the pertinent information about the prop or costume. The tag is tamper proof and the microchip is encrypted, making it impossible to duplicate.? 3) The certificate also has the 9-digit DNA invisible ink mark which must match the 9-digit invisible ink mark on the prop. This will ensure that it is a genuine prop issued by Premiere Props and authenticated by MPDNA.
As reported in September of last year, www.moviepropsdna.com at that time redirected to www.mpgrading.com, but currently returns a message of "The service is unavailable".
I have not found any information on the Premiere Props website or the MP Grading website about "Movie Props DNA".
More details about the actual auction can be found on the official Premiere Props website at www.premiereprops.com: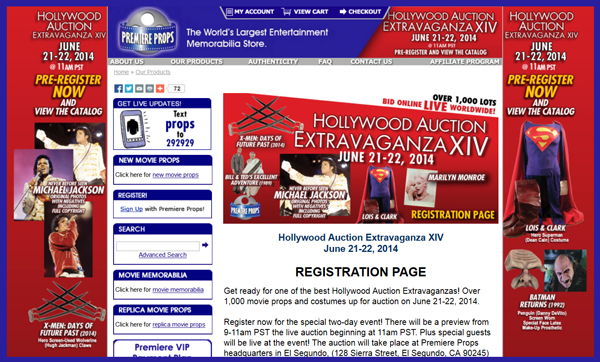 The auction event is scheduled to take place at the Premiere Props offices in El Segundo, California.
Jason DeBord