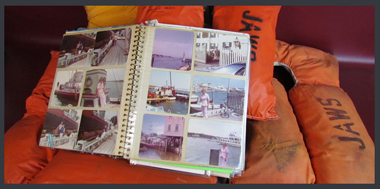 Sometimes I get busy and simply don't have the time to publish a preview of each and every auction, particularly ongoing, monthly, online-only auctions (though I list everything of relevance that I am aware of in my monthly auction calendar feature).  This site and my efforts here are all done essentially pro bono (any advertising revenue collected does not come close to offsetting my costs accrued over the years), so I'm always a bit surprised when dealers get demanding with me for overlooking whatever for profit endeavor that they expect me to promote for them (gratis), especially when they've never made any contribution to the resource that is this website….  In any event, I was on the receiving end of e-mails and a phone call from the people at Nate D. Sanders in the past few weeks for not previewing their February auction (which is listed in my February calendar); said auction ended yesterday.  One of the notable sales was a collection of Jaws memorabilia, but more interesting to me was that the lot that realized $50,000 with Nate D. Sanders could have been had for around $7,000 at public auction on eBay two months ago.Funny enough, in my explanation to Nate D. Sanders and their pressuring e-mails to promote their sale, I also expressed an opinion about their Jaws-related lot.  Rather than paraphrasing, this was my exact message sent back to Nate D. Sanders:
I am incredibly busy so I have to prioritize. The one lot I received a link to – Jaws – I thought had a ridiculous reserve for what it was, and you do have auctions every month. I'm working on a deadline at the moment so won't always have time to publish a preview of every auction every month.
I love Jaws – it is a true film classic.  But $25,000 at a minimum for what amounts to some interesting artifacts from the production, I thought, was ridiculous.  But that is merely my personal opinion.
Anyway, it was just an aside, neither here nor there as to why I just didn't have the time to preview the latest in their ongoing monthly auctions.  But I've since received not one but two messages from Nate D. Sanders following their auction – one in the middle of the night last night about the Jaws lot meeting the reserve and another this afternoon announcing that it had sold for over $50,000 (including buyer premium).
As such, I guess it is really important for them to have sold that lot for that much, but more curious to me is that someone would pay $50,000 for something that could have been had for about $7,000 on eBay less than two months ago.
I still view eBay as mostly a wasteland of a marketplace for original props, costumes, and other original production material… it littered with fakes and bad dealers, but I guess there is still an opportunity to buy and flip and make a tidy sum.
Below is the original listing of the Jaws memorabilia, as listed on eBay (see "1974 JAWS MOVIE SET MEMORABILIA from Richard Dreyfuss, Steven Spielberg, & More"):

Below is the original listing of the Jaws memorabilia, as listed on Nate D. Sanders (see "Lot #72: Amazing Movie Memorabilia From "Jaws" — Life Jackets Worn by Richard Dreyfuss, Robert Shaw, Roy Scheider and Steven Spielberg — Call Sheets & Dozens of Photos"):

In any event, Nate D. Sanders has monthly auctions every month, toward the end of the month, so if you overlook my monthly calendar with a link to it and don't see a preview, you can go to www.natedsanders.com and see for yourself.
Jason DeBord