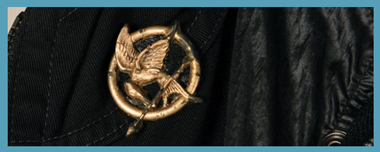 Blacksparrow Auctions has today put out their auction catalog for the Hunger Games Costume Auction, to be held on Los Angeles on November 16th.  Hardcopy catalogs are available to order on the official site, though you can also view the catalog online with bidding partner LiveAuctioneers.  The sale boasts 200 costumes from the popular 2012 film.Full details can be found at www.blacksparrowauctions.com: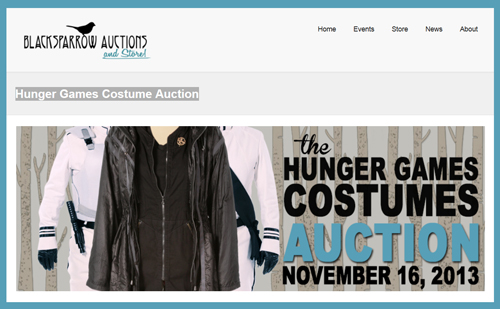 Out of the 200 lots, doing a search on "Jennifer Lawrence", it would appear that 23 are attributed to her and her character.
Below is information about the sale from the official site:
Over 200 original screen-worn costumes from the hit blockbuster, The Hunger Games, with be on the auction block. Interested bidders can participate in person, by telephone, absentee and Internet.Included in the auction will be costumes worn by Jennifer Lawrence as "Katniss," Josh Hutcherson as "Peeta," Elizabeth Banks as "Effie," Stanley Tucci as "Caesar," Liam Hemsworth as "Gale," Woody Harrelson as "Haymitch," Lenny Kravtiz as "Cinna," Donald Sutherland as "President Snow," Wes Bentley as "Seneca," and many, many more. Two print catalogs are available for purchase: a softcover and a limited edition hardcover.The entire collection was acquired directly from the production company and includes, in addition to the wardrobe, costumer documentation and production notes, as well as an archive of continuity photos. Previews are highly encouraged. Please contact us at (323) 250-3980 or blacksparrowauctions@gmail.com for more information or to make an appointment.
Jason DeBord