Troika Brodsky, special guest. This is the eighteenth 'Prop Talk' podcast by the Original Prop Blog.  Troika Brodsky is a hobbyist who has, over the past ten years or so, amassed the largest personal collection of Lord of the Rings props, costumes, and other material from the film trilogy.  The collection will be auctioned by Julien's Auctions (see official site) on December 5th as their "Trilogy Collection: Props & Costumes from Middle-Earth" auction event.  The collection will also be part of a public exhibition at Newbridge Silverware Museum of Style Icons (MOSI) in Kildare, Ireland from October 23rd to November 17th.
Troika took the time to talk with me today for the latest Prop Talk podcast interview for the Original Prop Blog and its audience.  You can follow him on Twitter at @RingsProps…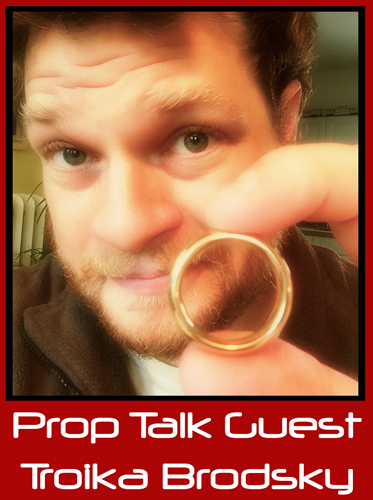 This article hosts the next in a regular ongoing series of full-length audio podcasts featuring one on one interviews with interesting people who participate in and/or affect the hobby of collecting and preserving original movie and television props, costumes, and other assets.
Below is a streaming audio player with which you can listen to episode #018 (length one hour fifteen minutes) – press the play icon to start the audio program:
"Prop Talk" by The Original Prop Blog
Episodes can now be downloaded directly via the Apple iTunes Store for your convenience, to listen at your leisure via a computer or portable device (iPod, iPhone, iPad, etc.). Click the portal below to be redirected to the iTunes store:

Note: It now takes less than 24 hours or so for the iTunes Store to update with the latest podcast (made available for free).
Special thanks to Troika for participating in today's Prop Talk podcast.
Jason DeBord