On the heels of the one-day notice, in person only sale of some original props, costumes, and set pieces from Breaking Bad that happened last weekend at Albuquerque Goodwill, newly launched online auctioneer ScreenBid has launched an extensive auction with hundreds of key props, costumes, and other assets from the popular AMC series, which comes to an end this month.  Items have been listed on their new website, which is scheduled to run from 9/29 to 10/8.  
Per a story from The New York Times, ScreenBid was founded by film producer Bill Block and entrepreneur Jeffrey A. Dash.
In their partnership with Sony Pictures, the new company is also selling material from the Seth Rogen film, This Is The End.
Check out the auction at the official ScreenBid site at www.screenbid.com: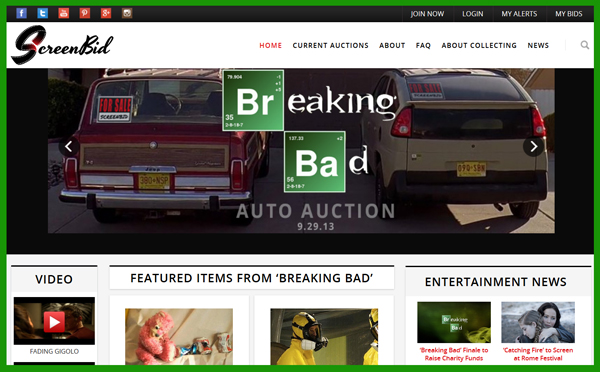 It is refreshing to see a new dealer/seller come to this art market with authentic, direct from the source material from a great property, and put together an auction that appears to be high quality in execution.
Jason DeBord