Lots for Premiere Props' September auction have been listed online with online bidding partners iCollector, LiveAuctioneers, and ArtFact as part of their "Hollywood Extravaganza XI". The two-day auction is scheduled for September 28-29, currently featuring over 800 lots. As with past auctions, the sale includes a mix of original props, costumes, and other film and television artifacts, as well as general Hollywood Memorabilia.
More details about the actual auction can be found on the official Premiere Props website at www.premiereprops.com: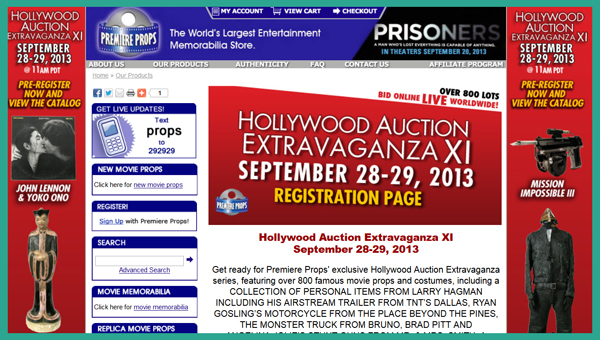 Regarding the material up for offer, some pieces I found to be problematic in terms of the claims/attributions, which prompted me to send links to those lots to those in this art market that know those respective pieces/properties, and the feedback I received was not positive (
as was the case with the Star Trek communicator back in June
).  Other pieces, like those obviously from top tier dealer Golden Closet, have impeccable provenance, so it is as always a scenario in which prospective buyers will need to do their homework (which is true of any auction).
The Original Prop Blog reported on the mention in some of these auction listings of their new "Movie Props DNA / MPDNA" authentication earlier this month, but had not obtained any additional information, though I have exchanged voice mail messages with Dan Levin.
The auction event is scheduled to take place at the Premiere Props offices in El Segundo, California.
Jason DeBord