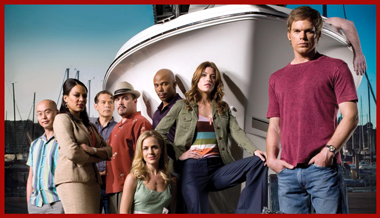 The most recognizable prop from Dexter, Showtime's hit cable television series that is coming to an end with the current Season 8, is Dexter Morgan's boat, "Slice of Life".  The original, fully-functional boat used throughout all eight seasons of the series by Michael C. Hall is coming up for public auction, set to begin with the airing of the final episode.  The final episode, "Remember The Monsters?", is set to debut on September 22nd.  Details about the upcoming sale of the boat can be found on the current owner's new website, www.dextersboatforsale.com:
Per the owners of the boat:
The famous "Slice Of Life" vessel, Dexter's boat, will go up for auction on eBay on September 22nd, 2013. The auction will run for 10 days. We will post the link on that day prior to 6:00PM PST.
Below is information from the site about the boat itself:
The Slice of Life is the name of Dexter Morgan's fishing boat which he uses mostly to dump dead body parts into the ocean.

Dexter is an American television drama series. The series centers on Dexter Morgan (Michael C. Hall), a blood spatter pattern analyst for a fictional Miami Metro Police Department (based on the real life Miami-Dade Police Department) who also leads a secret life as a serial killer. Set in Miami, the show's first season was largely based on the novel Darkly Dreaming Dexter (2004), the first of the Dexter series novels by Jeff Lindsay. It was adapted for television by screenwriter James Manos, Jr., who wrote the first episode. Subsequent seasons have evolved independently of Lindsay's works.

The series has enjoyed wide critical acclaim and popularity. Season 4 aired its season finale on December 13, 2009 to a record-breaking audience of 2.6 million viewers, making it the most-watched original series episode ever on Showtime. Michael C. Hall has received several awards and nominations for his portrayal of Dexter, including a Golden Globe. On November 18, 2011, it was announced that Dexter had been renewed for two more seasons. Season 7 premiered on September 30, 2012. The Season 8 premiere was the most watched Dexter episode ever with over 3 million viewers.

In January 2013, Showtime announced that season 8 premiere of Dexter was moved up from its originally planned airing in the fall to June 30. In April 2013, following ongoing fan speculations, Showtime announced that season eight would be the final season of Dexter.

AND NOW…… it is your opportunity to own Dexter's actual boat from this hit TV series and own a piece of TV history "The Slice Of Life".

…Have a Killer Day.

2001 Century 2900 cc | Center Console | 29 feet

Specs

Hull Shape: Deep Vee

Dimensions

Beam: 9 ft 6 in

Maximum Draft: 1 ft 10 in

Bridge Clearance: 8 ft 10 in

Deadrise: 23 ° at Transom

Dry Weight: 5300 lbs

Max Load Capacity: 4400 lbs

Engines

Engine 1:

Engine Brand: Yamaha

Engine Type: Outboard 2S

Engine/Fuel Type: Gas/Petrol

Propeller: 3 blade propeller

Engine(s) Total Power: 250 HPEngine 2:

Engine Brand: Yamaha

Engine Type: Outboard 2S

Engine/Fuel Type: Gas/Petrol

Propeller: 3 blade propeller

Engine(s) Total Power: 250 HP

Tanks

Fresh Water Tanks

Fuel Tanks

More details and additional features

Hi-Tech marine trailer, 3 axles, all aluminum

Current motor hours: Motor 1: 152h | Motor 2: 487h

Radar: C120 – GPS Raymarine

West Marine VHF 580 Radio

Raytheon Autopilot – ST5000

Canvas Cover
Jason DeBord