RR Auction will be holding their Hollywood Auction online on April 25th.  The catalog, now available online, includes a majority of photos, autographs, scripts, documents, posters and ephemera, though there are original props and costumes as well, mostly from vintage/classic properties.  In total, there are over 800 lots, so it is a fairly substantial offering.
The catalog is available in an eBook/Flipbook format as well as a preview gallery on their official site at www.rrauction.com: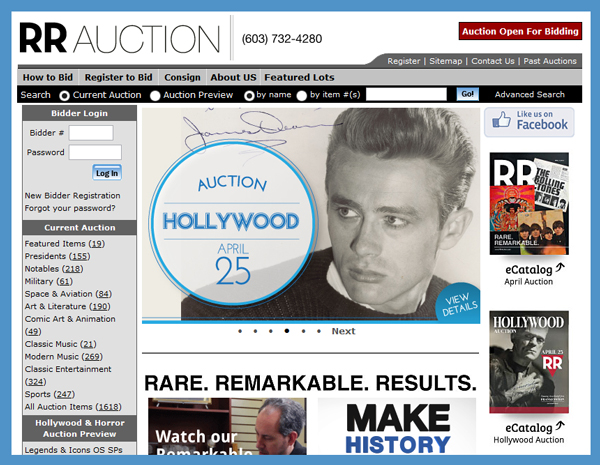 RR Auction makes the following pledge in their catalog:
RR Auction is committed to offering authentic autographs and memorabilia.

This commitment is the foundation on which RR has built its reputation as a responsible, respectable auctioneer. Backing our commitment to authenticity, we are proud to offer a 100% Lifetime Money Back Guarantee on every signed item we sell – unsigned items are covered up to one year. The Certificate of Authenticity that accompanies every signed item is good for the life of the piece regardless of owner.

While RR Auction is exclusively responsible for its guarantee, we are proud to work with a group of industry experts providing authentication services for autographed collectibles.
The terms of their auction differ from some other auction houses…  below are a few examples:
GUARANTEES

Each signed item is unconditionally guaranteed genuine without time limit.  If a lot is declared to be not authentic, we may ask the purchaser to supply the written opinion of one competent authority acceptable to us.  We will refund the original purchase price after documentation has been submitted.  The buyer's only remedy under this guarantee is the cancellation of the sale and the refund of the purchase price.

CONSIGNORS

Consignors are not allow to bid on or withdraw their own lots.  We will contact all consignors via mail, fax, or e-mail with their tentative final results the day after the auction ends.
Jason DeBord