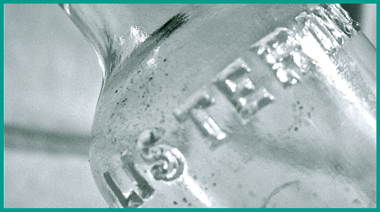 I am in receipt of a phone call today from a gentleman from Missouri, calling me claiming that he was told by an eBay dealer that the "vintage Listerine bottle from The Waltons" that he purchased was sold by the Original Prop Blog to the eBay dealer.  A simple search brought up such a listing on eBay – VINTAGE LISTERINE BOTTLE FROM TV'S THE WALTONS+ – sold five days ago by eBay dealer jnsmcmahan.  Long time readers of the Original Prop Blog will know that I personally do not find "jnsmcmahan" to be a credible dealer of authentic Hollywood memorabilia.  None the less, this notice is being published to make it perfectly clear that I have not sold anything to and will never in the future conduct any business with those behind eBay accounts "jnsmcmahan", "jsnent", nor anyone directly or loosely associated with such dealers or material or type/kind of material, including John Tarter, Billie Null, Mark Sullivan, L.A. Prop & Wardrobe, Hollywood Prop Supply, Studio West Prop, Ellis Props, and others.  In fact, the Original Prop Blog does not supply props or costumes to anyone.  
Perhaps the person who contacted me via telephone did so mistakenly, or under some level of misunderstanding, or perhaps it was merely a hoax.  Regardless, I can say quite definitively I have not sold, traded, or in any way provided any TV or movie props, costumes, set pieces, or related material to these people, and I would never in the future conduct any business with any of those individuals or companies in any capacity whatsoever.
Below is an archive of the eBay auction item that appears to have been sold to the gentleman who contacted me, taking his claims at face value (eBay Item #: 400436668481):

The Waltons aired 210 episodes over 9 seasons from September 14, 1972 – June 4, 1981.  Would the seller of this bottle have you imagine that a person or persons somehow has kept this unremarkable set piece identified for the past 32+ years, all for the purposes of making it available for sale today for a mere $29.99.  Really?
Who has meticulously kept track of this piece and it's attribution to this old television series?
Where is a single screen cap from the series showing a bottle just like this seen on screen in the television series?
If there is such an image, can it be matched exactly to the bottle being offered by unique mark?
How was it determined that "this bottle was issued to the set for use in various episodes"?
From whom was "[t]his show issued item was acquired from one of the largest prop supply houses in the US"?  When?  In what way was it marked and tracked as having been used on The Waltons?  How was this verified?  It does not appear to have any tag or label on it, in the auction listing photo.
eBay being eBay, no one who buys such material appears to be very curious about questioning this sort of material made available for purchase…  jnsmcmahan has 100% positive feedback for the past 12 months.
Personally – my personal opinion – I browse the listings for this seller and find the items sold and the attributions and claims to various film and television properties to be completely laughable.  This is merely my own personal opinion.  But I believe it to be in the public interest and in the interest of my own reputation to make perfectly clear that I have absolutely no association with jnsmcmahan and, in fact, I personally find the kind of material sold and the attributions made by them in their public eBay auction descriptions to various film and television productions to be completely devoid of any merit whatsoever.
I have previously discussed a variety of eBay sellers offering this kind of vintage material for public sale with attributions to film and television in an article published here back in 2008 – see "Classic" Film & Television Prop and Wardrobe eBay Sellers.
Jason DeBord