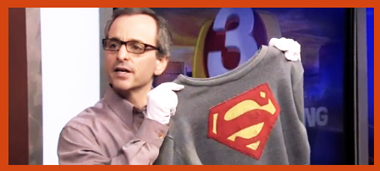 As reported a few months ago (see "James Comisar's "Museum of Television": The Three Year, $35 Million, 50,000 sq ft Project Finds A Home In Phoenix, AZ"), James Comisar's dream of creating a public museum to house his unparalleled collection of original television artifacts is becoming a reality, with a project in the works to showcase this material in downtown Phoenix.  Mr. Comisar was featured in a lengthy and substantive interview on "Good Morning Arizona" in the past week to talk about his project and collection, and also noted that a preview center is planned next year to promote the museum, which is scheduled to be completed sometime in 2016.
The report and video can be found on the official site, www.AZfamily.com (see "Museum of Television brings a slice of TV history to the Valley"), and the video broadcast is also embedded below:
I will continue to report on this exciting news for our art market as it develops further.
Jason DeBord