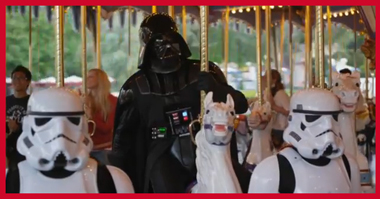 Yesterday's announcement that George Lucas struck a deal to sell Lucasfilm Ltd (and related companies and properties, like ILM and Skywalker Sound, and the Star Wars and Indiana Jones franchises) came as a surprise to many.  Along with the announcement were details about a third Star Wars trilogy with Lucasfilm's Kathleen Kennedy as Executive Producer – Episodes 7 (already scheduled for a 2015 release), 8, and 9…  in the event the news in general didn't warrant enough of a reaction on its own.  For me, the most surprising aspect of the deal is that circa the 70s, George Lucas was known as being quite anti-establishment… a rebel and innovator, working outside of the system, and, well, Disney (which owns ABC, ESPN, Pixar, Touchstone, Marvel Entertainment, theme parks, resorts, cruise lines, television stations, etc.) is about as establishment and corporate-oriented as they come.  Disney bought Marvel in 2009 (for $0.05 billion less), and hasn't ruined it or anything, but Marvel is not Star Wars, and what little I've already seen worries me.  24 hours into this new Disney/Star Wars era, and a video is already released with Stormtroopers wearing Mickey Mouse ears riding a merry-go-round with Darth Vader.  Really?
Star Wars, like many of my generation, was fundamental to my childhood.  A lot of fellow hobbyists in this art market gravitated to collecting pop culture artifacts in one way or another as a result of their love of the original Star Wars trilogy.
So, obviously, this news leaves many fans of the franchise wondering about what the future will bring.  Many that I talk with regularly felt the Prequel trilogy left a lot to be desired (to put it kindly), and I personally felt that Indiana Jones IV was one of the worst movies ever made (especially given what it could have been) and pretty much the worst movie I've ever seen.
I guess on the bright side, I don't know that I personally feel a new trilogy with significantly less involvement from George Lucas could be much worse than the Prequels, at least, but since they have yet to be written, filmed, and released, I'll reserve my judgment.  I'd love nothing more than to see three new quality Star Wars films with top talent involved.  Disney has resources, so hopefully they have good taste enough to throw money at talented people, and give them some creative freedom to make good movies.  Hopefully.
But Disney is about as corporate as they come, and to make my point, below is a hyper corporate, lifeless, boring and drab announcement video of the news from yesterday. They tell us that they're "thrilled", thankfully, because it certainly doesn't come across in the announcement. But that excitement is a bit lost in the gobbledygook of corporate speak keywords and phrasing like talk about "acquisitions", "growth strategy", and "opportunity for Disney to drive significant long term value for [their] shareholders". In other words, this is all about money making more money.  Star Wars as property, not art.
Below is a video released in conjunction with the news yesterday…  maybe it's just me, but it just feels so stilted and corporate and lifeless, if this is the kind of environment in which the last trilogy of Star Wars films was produced (along with the horrible, near unwatchable Indiana Jones film), it really kind of makes sense for me how those movies turned out the way that they did.
One thing that I find interesting – fascinating, actually – and literally makes me cringe (not being a fan of Disney in-house properties, child-oriented fare, and characters with shirts and no pants), was a comment by Kathleen Kennedy in this October 30th video, and then comparing that sentiment to the video released by Disney today, October 31st, just one day later… (below the quote)
The pledge by Kathleen Kennedy: "The main thing is to protect these characters, make sure that they still continue to live in the way that you created them…"
The ridiculous video released by Disney less than 24 hours later:
If this is the future of the Star Wars franchise, it makes me very, very sad.  The Hollywood Reporter doesn't seem concerned – quite the contrary – but seriously, 24 hours in and they make a horrible, cheesy, cringe-inducing theme park ad with gags that would fall flat with a three year old?  Time will tell.  But one day in, and Stormtroopers are wearing mouse ears.
Jason DeBord