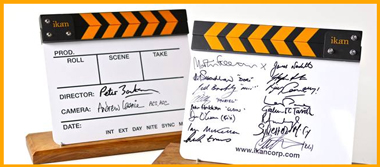 New Zealand-based production company and audio visual retailer Rubber Monkey is holding a charity auction for a set of two clapperboards autographed by some of the cast and crew of The Hobbit, with proceeds benefiting several charities, Ronald McDonald House, Wellington SPCA, and Wellington Hospitals and Health Foundation (SAFE and NICU).  The auction at Trade Me runs through September 10th.Click below to be redirected to the auction site:

Below is the description from the auction listing:
CLAPPERBOARD AUTOGRAPHED BY HOBBIT STARS – All proceeds going to SPCA, SAFE, NICU, & RM House.

This auction is for one of two film clapperboards, signed by selected members of The Hobbit cast including Martin Freeman (Bilbo) and Ian McKellan (Gandalf). Director Peter Jackson has signed the front of the boards.

The signatures are on Ikan film slate clapperboards donated by Rubber Monkey, and are presented on a handcrafted wooden stand, made by Cut To Size Ltd. in Wellington.

Organised by Rubber Monkey Audiovisual, all the proceeds are going to four deserving local charities.

They are: Wellington SPCA, Ronald McDonald House, Wellington Hospitals and Health Foundation- NICU, and SAFE.

Check out our other listing, for a clapperboard signed by the 2012 All Blacks squad.

Help us support these amazing groups and happy bidding!
Jason DeBord