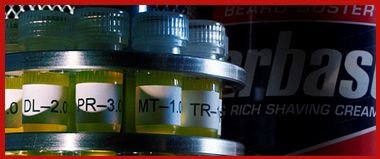 A friend of mine last night pointed me to an eBay auction, that is much like many of listings in the "Entertainment Memorabilia > Movie Memorabilia > Props > Originals" category on eBay… it features claims of an original prop, and absolutely nothing is done to demonstrate it as such and validate the marketing claims.  In addition with this one – a "Jurassic Park Cryocan SCREEN-USED PROP Original", offered for sale by ridaeb, this "original" prop offered for sale to the public for $5,000…  uses the same photo of a prop that is clearly identified as a fan made replica/reproduction on another site (and the eBay version of the photo has the watermark seen on YourProps cropped out).
In any event, another website, that does not specialize in original television and movie memorabilia, just published an article directing its audience to check out the eBay listing – see FirstShowing.net ("InGen's 'Jurassic Park' Dinosaur DNA Can Be Yours for Only $5,000!") – thus initiating a public discussion about a piece offered for sale to the public, so I felt a responsibility to respond, and include links and archives to both the eBay listing for the "original screen-used" prop and the YourProps replica prop listing…
Below is an archive of the eBay Listing (currently live on eBay here: Item #320898225628) for the original, "SCREEN-USED" prop:

Below is an archive of the YourProps Listing, for the replica/reproduction prop:

Both clearly feature the same photo, though one claims it is an original, "SCREEN-USED" prop, which the other identified it as a replica.
Below is a top/bottom comparison of the two photos (natively, from the respective source sites, they happen to be at the exact same scale, apart from the watermark cropping on the far right edge):

Note that the eBay auction listing photo appears to be the same image, cropped, to remove the watermark of the username on YourProps, "brivette007".
eBay Auction Description:
*THIS IS NOT A REPLICA

*ACTUAL SCREEN-USED PROP IN JURASSIC PARK (1993)

*INTERNATIONAL SHIPPING AVAILABLE

Hi!

Up for bidding is the original screen-used cryocan prop used in Jurassic Park (1993). I got it from a Universal Studios prop warehouse right after the film was first released. A COA signed by two prop designers who worked on Jurassic Park will be provided upon request. This is really a must-have for any Jurassic Park collector or fan. Let me know if you have any questions. Happy bidding! :)
YourProps Listing Description:
From the legendary Rylo's final run of cryocans.

(Of note, Barbasol recently reduced the ounces of their cans from 11 to 10.)
Rylo is well-known as one of the most talented replica prop makers on the Replica Prop Forum, and this is one of his popular replica props (which was offered for sale for around $300 each)
Below is a video review of one of the Rylo replica cans from YouTube:
Jason DeBord