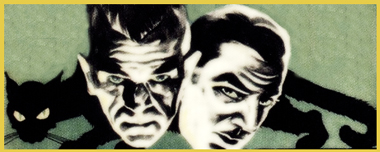 This is an update to the ongoing series of articles into various claims and charges of fraud in the posters, one sheets, and lobby cards art market that have rocked the collectibles industry over the past two and a half years. Today, per reports from Forbes, the Wall Street Journal, the Athens Banner-Herald, and other mainstream media sources, Kerry Haggard was sentenced by U.S. District Judge Colleen McMahon to six years and six months in federal prison.  The court also ordered to pay restitution in the amount of $1.38 million dollars.
Haggard plead guilty to one count of mail fraud in October.  Per the indictment, he made fake vintage posters and sold them on eBay and also traded them for authentic material between January 2006 and August 2009.
Below is an excerpt from the Forbes article:
In some cases, collectors traded their bona fide collectibles for Haggard's fabricated phonies. So, this con artist had two baited hooks in the water: He would sell you a fake or trade you for it. The bait must have looked tasty because 25 little fish apparently bit down hard on the whole "trust me" aspect of this eBay scam and lost at least $1.3 million in money and property.

This idiotic scam reaped $1.3 million? Wow, now that's scary!

The thing about these art forgery cases is that I'm never quite clear why the fraudster doesn't think far enough ahead to anticipate that some authentication expert will blow the whistle. In this case, once the bogus goods made their way on consignment to reputable auction houses or to other art experts, the sham was revealed. The angry peasants were armed with torches and pitchforks, hot on Haggard's trail — of course, more importantly, so was the FBI.

In April 2010, Haggard was arrested and released on bail. Sadly, he didn't quite seem to understand how the whole arrest and bail process worked because shortly after his release, he attempted to enlist the assistance of an individual to hide from the FBI and an angry mob of his victims various items that were part of the fraud. That got him re-arrested without remand.

You'd think he would have learned a few things from that misstep. You know, like not trying to reanimate a six foot tall homicidal maniac in an abandoned castle, or not looking into the eyes of Count Dracula. Apparently not. While in jail, Haggard enlisted his girlfriend and son in further efforts to hide various assets involved in his fraud. Haggard seems to have become haggard. You're in jail and now you got your girlfriend and son doing your illegal bidding while you run things from your cell? Great plan. Maybe next time you could text the Invisible Man and get him to carry out your nefarious deeds.
Full discussion of these developments can be found at MOPO:  KERRY HAGGARD WAS SENTENCED TODAY!
As reported previously, a criminal complaint by the Manhattan U.S. attorney references the sale of at least $1 million dollars in fake material sold on eBay. The New York Times a year ago reported to have received an e-mail from Mr. Haggard in which he claimed to be the victim of a "colossal frame-up". (see "Vintage Poster Scandal Update: New York Times Reports Kerry Haggard Arrested on Mail Fraud Charges").
Previous Original Prop Blog articles have reported on multiple independent lawsuits that have been filed against Mr. Haggard by multiple parties, including Profiles in History, Ron Magid, and James Gresham (see "Profiles in History Files Lawsuits Against Fraudulent Movie Poster Auction Consignors", see "Round-Up: More Media Coverage on Fraudulent Vintage Horror Movie Poster Scandal & Lawsuits").  Per their complaint, Profiles in History states that nine "fakes" in total sold for $93,750.00 at their auctions.
As reported in January 2010, the New York Office of the Federal Bureau of Investigation was seeking victims who purchased fake horror movie posters and lobby cards on eBay (see "Poster Fraud Update: Reports of FBI Investigation Seeking eBay Victims, Multiple Civil Lawsuits").
All related articles published by the Original Prop Blog can be found via the link below (Market Watch | Posters, One Sheets, Lobby Cards):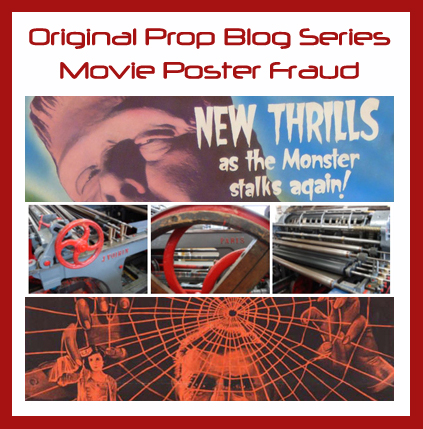 Original Prop Blog will continue to monitor these developments related to the movie poster scandal at large.
Jason DeBord