HollywoodPatch today published a report that Erik Anderson filed a lawsuit against Profiles in History, Joe Maddalena, and producers Shevick*Zupon Entertainment and Zupon Entertainment over the idea for their SyFy television series, Hollywood Treasure.  Per their article, Mr. Anderson claims to have pitched Mr. Maddalena the idea for a show with the same concept, which he called Hollywood Forgotten, in October 2009, and he also published four episodes of his show on YouTube.
The full article can be viewed at Patch.com: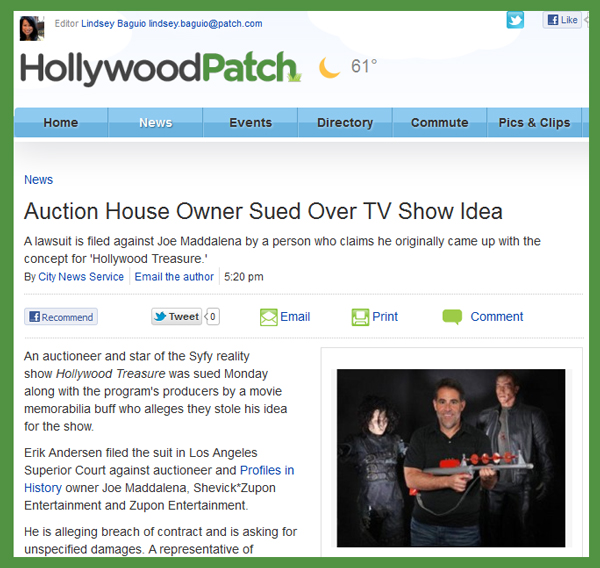 I performed a search on the Superior Court of California – County of Los Angeles website and found no such complaint has yet been uploaded to the site.
I did find Erik Andersen's filmsinfocus account on YouTube, and his Hollywood Forgotten videos, one of which is embedded below as an example of his work.  Hollywood Forgotten – LOST Dan Roebuck Preview #2 was published on YouTube on February 1, 2010, and has at the time of this article 2,116 views.
Hollywood Treasure debuted on October 27, 2010.  Below is an episode of Hollywood Treasure, S01E21 – Lost in Apes:
Jason DeBord