The online catalog for the Premiere Props "Hollywood Auction Extravaganza V", scheduled for March 24-25, is now listed via online bidding partner iCollector as well as a traditional-style catalog in PDF format from their own website. The two-day auction includes over 1,000 lots from various film and television productions.
The catalog at this time is exclusively available at iCollector.com:, though LiveAuctioneers is also advertised as another bidding partner: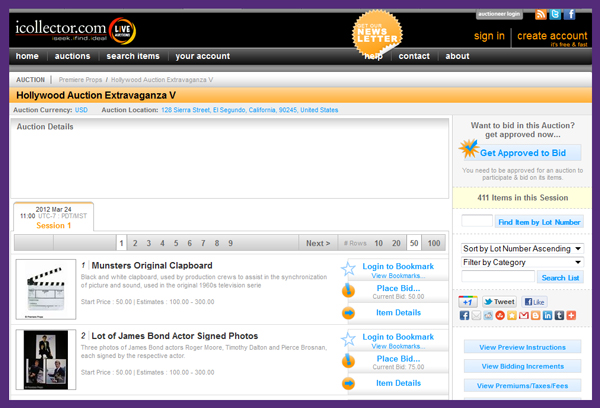 The PDF catalog and additional information can be found at the official Premiere Props website, www.PremiereProps.com: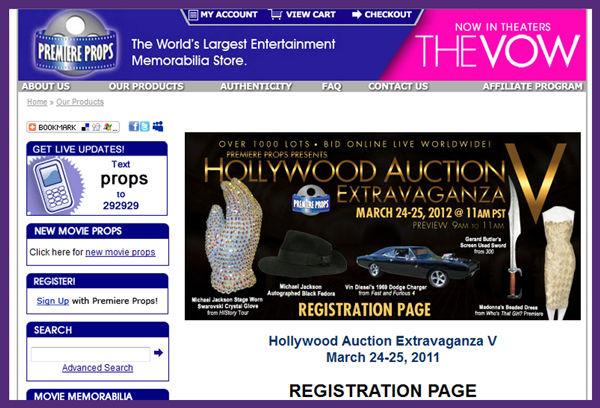 As with recent multi-consignor auctions, in reviewing the lots, no distinction is made on a global basis between those lots obtained directly from studio/direct sources and those consigned from private collectors or dealers. However, some lots can be identified as one or the other either by one's familiarity with Premiere Props studio properties (and one can be brought up to speed by referencing their website) as well as case by case instances in which relevant information is included in the brief descriptions.
As an example, with Lot 513 – "Taxi Driver Background Meter", no information is included in the description as to how this was found to have been in "one of the background taxis featured in Martin Scorsese's Taxi Driver", or any other information as to provenance, authenticity, source, prior ownership, etc.  At the time of the publishing of this article, iCollector only includes Session 1 on the online catalog, so I cannot provide a direct link.
One of the lots marketed as a highlight, referenced in Page 1 of the PDF catalog, is the "original Darth Vader Stunt Lightsaber from Star Wars: Return of the Jedi".  Below is the description from the PDF catalog (see also Lot 68A on iCollector):
Lot 68a. Stunt Darth Vader Lightsaber from Return of the Jedi – Darth Vader's rare screen used stunt lightsaber from Return of the Jedi (1983) acquired directly from Elstree Film Studios, one of the films key studio locations with a certificate of authenticity directly from The Danziger Collection, signed by Nick Harrison, Special FX Supervisor. A gold Danziger seal accompanies the Certificate Of Authenticity from the studio. This lightsaber was used on screen in a majority of the stunt sequences for Darth Vader performed by David Prowse, as Darth Vader in George Lucas' third installment of the Star Wars series of films,  Return of the Jedi. The historical importance of this item can hardly be overstated. Darth Vader began life as Anakin Skywalker before falling prey to the Dark Side. In the wake of a dreadful accident he assumes an elaborate breathing apparatus and becomes Darth Vader, a slave to the Galactic Emperor Palpatine. Strongman David Prowse portrayed Vader in most scenes for Return of the Jedi save those involving lightsaber duels. These were performed by Olympic fencer Bob Anderson. Anderson further performed stunts for films such as Highlander (1986) and Pirates of the Caribbean: Curse of the Black Pearl (2003). (11×2) ($30,000-$50,000)
The piece comes with provenance and a COA from the pre-2008 (prior to second to last change of ownership) Elstree Props (see photos above).
Readers are welcome to review articles published about pre-2008 Elstree Props, Elstree Props COAs, other props sold/offered for sale with attributions to use in various Star Wars films:
The two-day auction event is scheduled to take place at the Premiere Props offices in El Segundo, California.
Jason DeBord