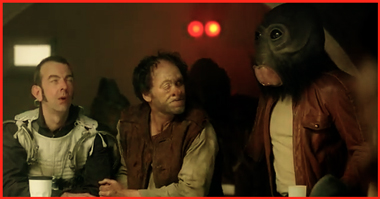 I just wanted to give a public congratulations to my friend Tom Spina and all his cohorts over at Tom Spina Designs for their outstanding work on the new Star Wars themed commercial produced for the Superbowl this month.  The ad, "The Dog Strikes Back: 2012 Volkswagen Game Day Commercial" features a cut to a stunning recreation of the A New Hope Mos Eisley Cantina, with creature masks, prosthetics, and some costumes made by the Tom Spina Designs team (10 aliens in total).  Incredible.
In the commercial, with the cantina scene most of the screen time is the dialogue between BoShek and Dr. Evazan, with Ponda Baba (AKA "Walrus Man") nearby, noticeably missing one of his arms following his encounter with Obi-Wan Kenobi, with Darth Vader interrupting their conversation and debate as to whether last year's "Darth Vader kid" commercial was better (see embedded 2011 video further below).
I've known Tom for about 10 years now, and he is a huge Star Wars fan, and of all the movies, and all the scenes, the Cantina scene in the original film has always been his favorite.  So it is awesome to see him have the opportunity to take a lead and critical role in a modern day recreation of it.
I know from talking with Tom that he will in the coming days and weeks be publishing a lot of photos and information about their work on this commercial over at his official site, www.tomspinadesigns.com, but wanted to help spread the word about the commercial and his contributions to it.  Below is the commercial directed by Lance Acord:
Below is a link to a Los Angeles Times story with an extensive making of/behind the scenes video (see "Super Bowl ads: Why Volkswagen returned to 'Star Wars'"):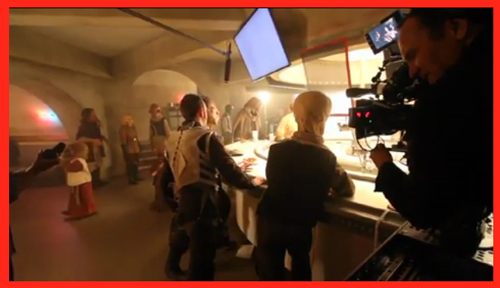 Tom is well known in the industry for his incredible work in saving and restoring original props and costumes and building custom displays and other exciting projects, but he also does amazing original work and I am just so happy to have been able to see his career exploded over the past few years, and can't wait to see what kinds of opportunities open to him as a result of the worldwide exposure of this great commercial.
You can learn more about Tom Spina Designs at his official site: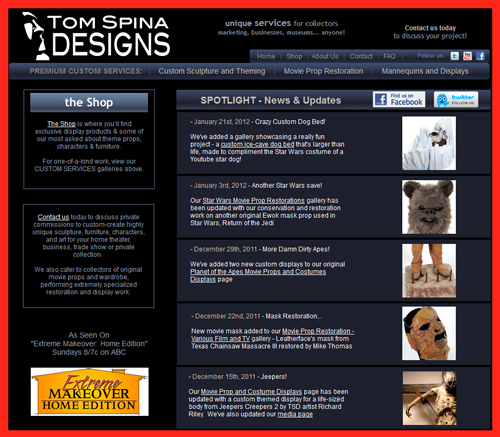 I would also encourage you to "Like" his Facebook page to keep up with the latest information he has to share, such as the public announcement of this video: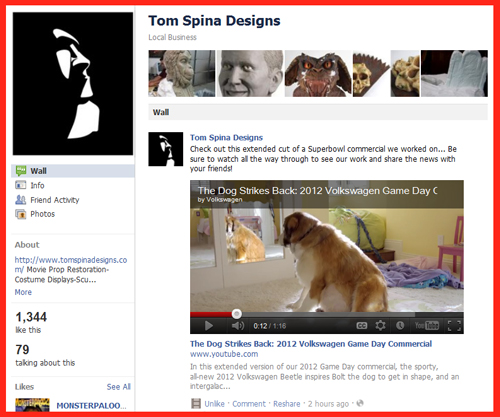 You can also learn more about Tom via my Prop Talk podcast interview with him (my first guest).
Below are some stills of Tom Spina at work from the behind the scenes video over at the Los Angeles Times, which includes an interview with Tom:
Tom showing off his work, produced in less than two weeks!

Tom with Feltipern Trevadd (with horms), Muftak (white and furry), and Kabe (the short one)…

Classic!

Making sure Muftak looks just right…

Tom giving special attention to Ponda Boba…
Below is the 2011 Game Day video, "The Force", featuring the Darth Vader kid (which is obviously part of the joke of the commercial released today)…
Below is the 2012 teaser Game Day video, "The Bark Side" (with dogs barking along to John Williams' 'Imperial March', all subtly dressed up as famous Star Wars characters)…
Just for fun, below is a photo I took of Tom in 2005, when we visited Bob Burn's Basement – seen with the original, screen-used Muftak from Star Wars: A New Hope: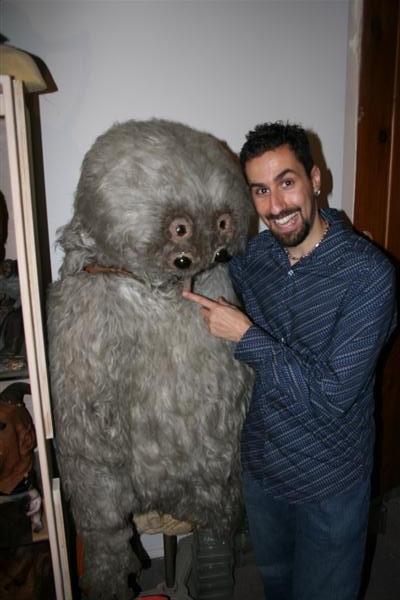 How cool to see him so accurately recreate that same creature for a new scene within the Mos Eisley Cantina today.
Again, huge congrats to Tom and his team at Tom Spina Designs!
Jason DeBord

Update 1: 2/2/12
Tom put up a page on his Tom Spina Designs website this morning with more information about their work on the Volkswagen commercial, including some studio photos of the masks and other pieces that they created for the shoot: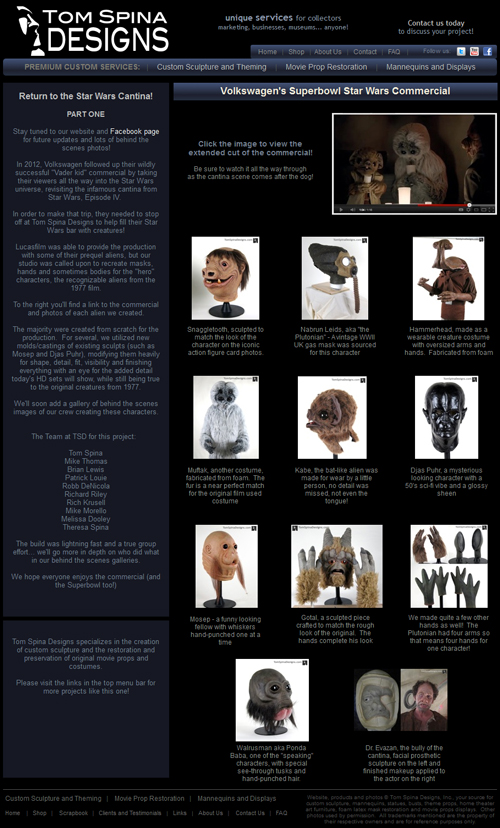 Also, credits for the full team at TSD that played a part in bringing the cantina creatures to life:
Tom Spina
Mike Thomas
Brian Lewis
Patrick Louie
Robb DeNicola
Richard Riley
Rich Krusell
Mike Morello
Melissa Dooley
Theresa Spina

Update 2: 2/2/12
Another 'Making of' / 'Behind the Scenes' video published by Volkswagen tonight: