Profiles in History have announced a special "Shoemania" charity auction which will benefit The Arts of Central Florida.  Presented in conjunction with Planet Hollywood and DSW Shoe Warehouse, the auction will include autographed shoes donated by a variety of celebrities.  The auction is slated to be held at the Designer Shoe Warehouse at The Milllenia Center in Orlando Florida on November 9th.
Full details can be found at the Profiles in History website: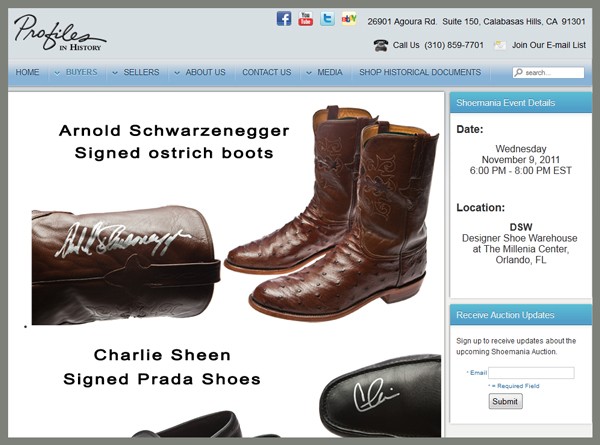 The sale is described as follows:
"Shoemania" Auction highlights will include autographed shoes donated by Hollywood luminaries such as: Justin Bieber, Britney Spears, Natalie Portman, Russell Brand, Michael J. Fox, Ellen DeGeneres, and Susan Sarandon. Other celebrities who have signed shoes for this good cause include: Donatella Versace, U2's Adam Clayton, Shaq, Lamar Odom, Michael Buble, Ringo Starr, Kelly Osbourne, among many others.
Jason DeBord