I was contacted today by Joe Huth with a link and details about his and AJ Palmgren's excellent new website dedicated to sharing and exchanging information about the vehicles and props used on the classic '80s television series, Knight Rider., starring David Hasselhoff as Michael Knight and his high tech, artificially intelligent car, KITT (a highly modified Pontiac Trans Am).
Joe's new website, Knight Rider Historians, can be found at www.knightriderhistorians.com: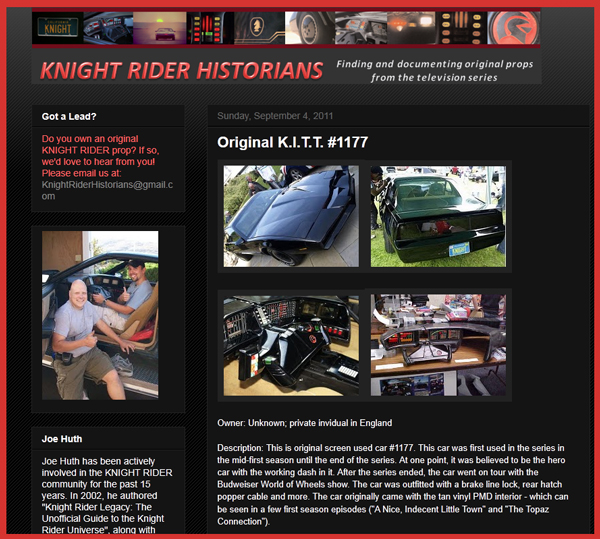 In my communications with Joe, he described the site as "dedicated solely to props used in the original Knight Rider television series", and that he's "been studying original KR props for years and decided to share my findings with the world".
Joe hopes to get in touch with others who have props from the series or know about the show, in order to learn more about it and share with others fans.
From Joe:
Very high on my "wish list" is trying to find out what happened to the two KITT cars that Universal Studios Hollywood used on display at their theme park. One of them ended up in a junkyard in 2008, but I am still searching for the other one (see attached pics). Rumor has it, this car was sold by Universal around 2000-2001 along with an original "A-Team" van and the Citroen Taxi from "Back to the Future II". I've yet to find any information on this sale. Perhaps one of your readers can help!
Joe has also written books about the show, as he describes below:
In 2002, I authored "Knight Rider Legacy", a 400 page book on the making of the series. I interviewed numerous cast and crew members, including series creator Glen Larson. The book is currently out of print, but I am working on a huge update set to be released next year for the show's 30th anniversary. I've added roughly 50 more interviews, with my goal being an interview covering each episode produced.

The other, smaller KR books included a Knight Rider merchandise guide and a "KITT owner's manual" that documented each of the car's features. I am also preparing to embark on the restoration of one of the 5 original KITT cars left.
They are also interested in any pictures readers may have of them visiting Universal and seeing the KITT car.
You can get in touch with Joe and AJ directly at KnightRiderHistorians@gmail.com.
Jason DeBord