Over the past few months, the Internet has been buzzing about on location filming for some of the upcoming blockbuster superhero-genre movies (in 2012 and 2013), with on location filming in American cities.  As such, all manner of photos and videos have been shared online, offering glimpses into both "first look" images of costumes and sets, as well as a look into the film making process itself.  The second successive Superman reboot (now with Zack Snyder directing), Man of Steel, has been shooting in Plano, IL, the third of the Chris Nolan Batman films, The Dark Knight Rises, has been filming in Pittsburgh, PA, and Marvel Comics' launch of The Avengers franchise team movie helmmed by Joss Whedon has set up location shooting in Cleveland, OH.
Man of Steel
Per the Chicago Sun-Times, the Man of Steel set appears to be more closed off and inaccessible than some of the others (see 'Man of Steel' filming is one tightly closed set), characterized as having high security, with local reports of lots of explosions and some celebrity sightings (Amy Adams, Henry Cavill, Kevin Costner, Diane Lane, and Russell Crowe).
One of the key images leaked thus far shows Henry Cavill on set wearing the drastically redesigned Superman costume (with a more real world look than the publicity shot shown by Hero Complex and others, which concealed the fact that his trademark briefs have been abandoned):

Many of the best photos can be found on the Facebook page for Superman 2013:  LINK
Another good resource is ComicBookMovie.com: "More Pics and Superman Scoopage from the Plano Set"
Dark Knight Rises
There has been a tremendous about of photos and videos published on the net about the third film in the highly acclaimed series of Batman movies by director Chris Nolan, starring Christian Bale.  In contrast to the closed sets reported with regards to Man of Steel, WorstPreviews published a story today about the director inviting journalists to visit the set, watch filming, and interview some of the stars (see Catwoman's Goggles Transform into Cat Ears in "The Dark Knight Rises").  In fact, a simple Google News search on "Dark Knight Rises" returns thousands of recent results on the filming of the production.
I spoke with fellow original prop and costume collector Dan Short recently, who is in the Pittsburgh area and took more than a week to follow the production, taking photos and shooting video (one of which ended up on TMZ).
He has established a YouTube channel – Pittsburgh Movies – showcasing the videos he shot of the production: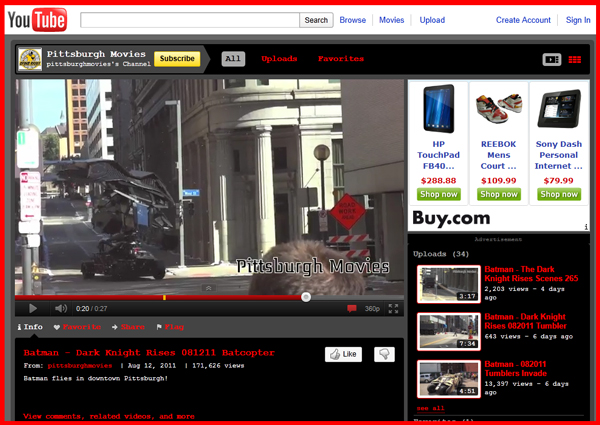 Below are a few of the more interesting videos:
To date, Dan has published over three dozen videos.  Below are a few of the photos he sent over to share with the readers of the Original Prop Blog:

Below is a photo from www.TheSuperficial.com showing Batman fighting Bane on the courthouse steps:

Another image of Anne Hathaway as Catwoman from the same website:

 The Avengers
As noted, The Avengers and related filming in Cleveland, Ohio has also garnered a lot of attention, from local media and mainstream media alike.  Based on the comic book created by Stan Lee and Jack Kirby in the early 1960s (along with Spider-Man, the Fantastic Four, and other staples of the Marvel Comics universe), the film version will team up a number of popular characters who have already been featured or served as supporting case in one or more films of their own – Iron Man, Captain America, Thor, The Hulk, Black Widow, and Nick Fury, as well as Hawkeye.
As an example, WIRED published a fairly extensive fight scene featuring Captain America and Thor, with Chris Evans and Chris Hemsworth respectively doing their own stunts, which can be viewed at www.WIRED.com: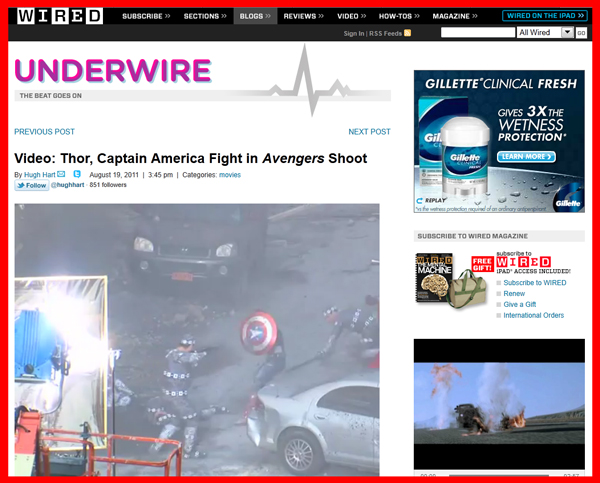 Below are a few videos that can be found on YouTube:
Cleveland.com has also been publishing coverage, such as this still photo showing Captain America fighting Thor villain, Loki:

Again, another source for photos and videos is SuperHeroHype: New Videos From The Avengers Cleveland Set
A simple Google News search of "Avengers Cleveland" will return hundreds of articles.
Jason DeBord