Mike Schultz, special guest. This is the sixteenth 'Prop Talk' podcast by the Original Prop Blog. Mike Schultz, known as "The Shark Guy" has done extensive research into the "Bruce" prop sharks made for and used in the classic Steven Spielberg film, Jaws (1975). This special edition of 'Prop Talk' was recorded on site at Comic Con 2011 in San Diego.
Mike has worked as a pastor, a hospice counselor, a carpenter, a State Correctional Officer, and a 911 operator for the City of Ozark, Missouri.  Throughout his life he has developed his skills in designing and sculpting, with sharks capturing his imagination, in particular finding inspiration in Jaws.  His efforts include memorializing the details of the prop sharks used in Jaws in the form of his research and reproductions.
I met with Mike at Comic Con 2011 in San Diego for a special edition of the Prop Talk podcast interview for the Original Prop Blog and its listeners.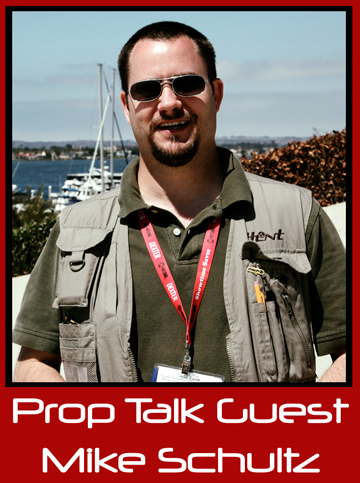 This article hosts the next in a regular ongoing series of full-length audio podcasts featuring one on one interviews with interesting people who participate in and/or affect the hobby of collecting and preserving original movie and television props, costumes, and other assets. The sixteenth guest of this program is Mike Schultz
Below is a streaming audio player with which you can listen to episode #016 (length 29 minutes) – press the play icon to start the audio program:
"Prop Talk" by The Original Prop Blog
Episodes can now be downloaded directly via the Apple iTunes Store for your convenience, to listen at your leisure via a computer or portable device (iPod, iPhone, iPad, etc.). Click the portal below to be redirected to the iTunes store:

Note: It now takes less than 24 hours or so for the iTunes Store to update with the latest podcast (made available for free).
You can learn more about Mike Schultz at www.SharkCityOzark.com.
I'd like to thank Mike for taking the time to share with the Prop Talk audience.
Jason DeBord