This morning Scott Fortner published a substantive update to his article posted on Friday, with very compelling and extensive analysis of the dress(es) worn by Marilyn Monroe in The Seven Year Itch (1955).  The questions originally raised by Scott has led to a number of significant revelations about the famous dress, one of which was sold last weekend by Profiles in History in their Debbie Reynolds auction event.
The Original Prop Blog reported on Scott's original article here:
The two Marilyn Monroe Collection Blog articles:
I highly recommend reading Scott's full, newly published article at his Marilyn Monroe Collection Blog to review and appreciate his complete analysis and findings: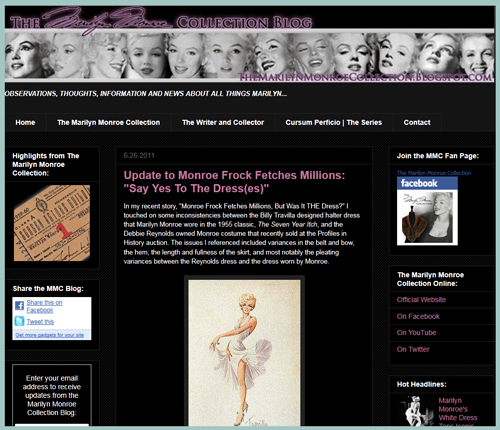 As an aside, in my communications with Scott, it sounds as though a handful of people misinterpreted the open question in his original article title – "Was it THE Dress?" – as a question or challenge to its very authenticity, rather than its actual use as seen on screen in the scene to which it was specifically attributed, given that his research found that four such dresses were made for and delivered to the production, and there were distinct differences between the Profiles dress and the ones seen on screen.  Namely "was it THE dress worn by Marilyn and seen on screen in THAT scene?", as per the Profiles in History auction catalog description, as opposed to the less specific and general classification of being one of several original dresses made for and delivered to the production.

In any event, to further extrapolate on the questions that came to my mind in reading Scott's first article, it breaks down into two topic areas.
Topic #1: Was the Profiles in History "Seven Year Itch" dress worn by Monroe as seen on screen in that specific scene?
Again, as a foundation, I never personally questioned whether it was "authentic", or "Original" as per my own personal definition published on the Original Prop Blog in April 2007:
An "original" piece is something:

1) made by or acquired by the production,

2) during the production, and

3) used or intended to be used during the production.

All three of these traits would have to be true to be "original".
From Scott's article, the designer and maker of The Seven Year Itch dresses, William Travilla, at one point borrowed the garment from Debbie Reynolds to copy it, so he clearly recognized it as his own work and as one he made for the production.  Ms. Reynolds also obtained the piece directly from the studio, so at least in my mind, there was never any question that it was "Original".
My outstanding questions were matching up the facts, as they are known (or can be determined), with the very specific, scene and dialogue-specific attributions of the dress as articulated in the Profiles in History catalog description (excerpt):
Worn by Marilyn Monroe as "The Girl" in one of the most iconic images of film history in The Seven Year Itch when she stood above the subway grate and uttered that famous line, "OOOH isn't it delicious?"
Scott claims in his original article, based on his research, that four (4) such dresses were made for and delivered to the studio (and thus, if correct, there would be four "Original" dresses, regardless of use on set).  I don't know if this is a fact, but I have not read anything to the contrary.  This information, per Scott, is from the Travilla estate (excerpt from Scott's original article below):
With all of this confusion, I reached out to Andrew Hansford, the England-based curator of the Travilla Estate. The estate possesses patterns and sketches from Travilla for many of his costumes. Andrew actually shared with me an image of the pattern and a sketch for the subway dress.

In our conversation, Andrew indicated that Travilla left "very" detailed notes, along with accounts as to how the dress was made, the fabric that was used and his inspiration for the costume. According to Travilla's notes, he actually delivered four subway scene dresses for The Seven Year Itch to Fox.
If one costume were made and delivered to the studio, I think the very specific attribution made could be accepted as fact.
To further complicate matters, and as Scott details in today's article, the famous subway scene was shot in two separate locations (New York City and Los Angeles) many months apart.
In addition, if more than one (in this case assuming four) costumes were made and delivered to the studio, to make such a specific attribution, there would need to be visual evidence to match the dress sold at auction with the dress as seen on screen or publicity photos, there would have to be studio wardrobe tagging that is scene specific, and/or there would need to be a principal from the production available to in some way, with some authority, based on knowledge/first hand experience, to place the dress in question in that specific scene.
So based on my own personal assessment of the dress sold at auction, with the information I have available to me, I don't personally see how the dress sold can be characterized with certainty as absolutely worn by Monroe in that specific scene while uttering that line of dialogue in the final cut of the film.  Having said that, based on information available today and as I have felt since reading the catalog upon release, I recognize the piece sold by Profiles as an "Original" dress from The Seven Year Itch.  I believe more information would be required to affirm the highly specific catalog description as to use.  And perhaps with this public dialogue, more information will become available in the future.
In this case, as pointed out in Scott's original article, comparing the dress sold at auction with available studio images made at the time of the production, the dress as it exists today in some very specific ways does not match the dress worn and as it appeared on set and during the production of The Seven Year Itch in 1955, and in fact exhibits some discernible differences.
Consequently, and in an effort to reconcile these differences, Scott revealed from his own research that one or more of these Seven Year Itch dresses were likely altered and repurposed for use to be worn by Roxanne Arlen many years later as a secondary character in the "B" movie, Bachelor Flat (1962).
As such, the last question in Scott's original article was:
Could Reynolds have purchased a (possibly altered) dress that was worn by Arlen in Bachelor Flat?
This open question posed by Scott was a question that I personally had not seen raised in any of the dozens and dozens of mainstream media articles and television broadcasts reporting on the auction or any entertainment memorabilia-related specialist websites or discussion forums.  More, it was not referenced in the Profiles in History auction catalog description or promotional material.
In the article published by Scott today, I believe he makes a convincing case in answering his own question – that the Seven Year Itch dress sold by Profiles was repurposed for use by Arlen years later in Bachelor Flat – based on his analysis of those physical differences of the dress(es) worn in The Seven Year Itch and the one seen on screen in Bachelor Flat, and comparing that to a physical (photographic) examination of the dress recently sold at auction.
I found this to be a very interesting question/theory in the original article, which has today resulted in revelations that do not appear to have been previously known to the hobby at large.  I have long been an advocate of having public dialogue asking questions about pieces offered for public sale, in a respectful and thoughtful manner, as it can be a very productive and fruitful exercise, as I believe to be so in this case.
This aspect of the story is what leads to the second topic of what intrigued me about original (and now follow-up) article published on The Marilyn Monroe Collection Blog by Scott Fortner.
Topic #2: Was the Profiles in History "Seven Year Itch" dress altered for and worn in "Bachelor Flat"?
I am aware that some of the reaction to Scott's article was negative, and I feel that is unfair to his efforts and intentions.
It is healthy to have open, honest, and respectful discourse in the hobby about what is offered for public sale, how it was used in production, how it is authenticated, how it is described and presented, etc.
As I've consistently promoted over the years, with regards to original memorabilia made available for public sale, if a case is made for authenticity and, more, specific use of a piece in a production, it should invite questions, debate, and discussion.  If a piece is authentic, questions should merely provide an opportunity to affirm specific claims and attributions, and in doing so, strengthen the provenance.
In any event, based on the article published by Scott today, it appears likely that the Seven Year Itch dress sold at auction by Profiles in History was altered for use by Roxanne Arlen in the 1962 film, Bachelor Flat.  In addition to the extensive photo-based analysis in his article, this excerpt below details the changes identified with the dress sold at auction:
With Andrew Hansford's insight into Travilla's costumes, a detailed review of the Reynolds dress indicates that it was in fact altered. It's been determined that the skirt was shortened, and it was shortened from the top. It appears as if at some point the skirt was separated from the dress, cut from the top and then reattached to the bodice, which would result in a change to the pleating of the dress. When the skirt was shortened the narrow sunburst pleating (at the top of the skirt) was cut away, and the dress was then reattached to the bodice, resulting in a wider pleat in the skirt, hence the variance in pleats between photos of Marilyn wearing a Seven Year Itch costume and the costume sold by Ms. Reynolds. Also, the shortening of the skirt likely explains the lack of fullness when compared to the dress worn by Marilyn. As the costume Arlen wears in the film is clearly shorter than the costume Marilyn wears, it's apparent that the dress Arlen wears was altered for her for the film, and not after it was acquired by Reynolds, as previously proposed. Note that this may have been the time when the skirt was re-hemmed. Thank you to Andrew for providing valuable expertise on this aspect of the dress. (Unfortunately, screen captures of Arlen in the dress aren't clear enough to compare the pleating of her costume and the Reynolds costume.)
This resolves the second of the two questions that came to my mind with my reading of the original article, namely, how can it be known and proven if the dress was subsequently altered for use in the other production?  I believe that Scott quite masterfully addresses this with the supplemental photos provided to him by Profiles in History, in conjunction with his own analysis and support from Greg Schreiner, Andrew Hansford, and others.
Assuming that is the case, my follow-up question would be to ask: when was Profiles in History aware that the dress had been altered following production in The Seven Year Itch for subsequent use in another film?  Prior to the publication of the catalog?  After the publication of the catalog?  After the sale event?  After reading Scott's original article on the topic?  After discussing Scott's original article with him and participating in providing detailed photos for his follow-up analysis and article?
Concluding Thoughts
In closing, though some in the hobby operate in a black and white world of "real or authentic", serious practitioners understand that it is a highly complex world of gray, nuance, questions, patience, research, inconclusive assessments, business interests, personal interests, as well as some sincere attempts at open dialogue, an exchange of ideas, an ongoing pursuit of facts and information, and transparency.
Sometimes the most productive way to learn is to ask open and public questions, which can result in obtaining new information by way of feedback, and then work to answer your own questions.  The results can not only be shared with others, but having an open and transparent public process can help others to learn how to use similar tools, techniques, philosophies, and approaches to apply to their own efforts in other situations.
I would like to extend my personal thanks to Scott for, as an unbiased third party, asking legitimate questions in a respectful manner and conducting such thorough research, which has led to a lot of great information about an important piece of popular culture history.  If it had not been offered for sale, these discoveries might not have ever been made, so I view it as an important contribution to the provenance and history of the piece.  Again, I highly recommend reading Scott's newly published article – Update to Monroe Frock Fetches Millions: "Say Yes To The Dress(es)" – which includes a wealth of information, details, and analysis not found herein.
Jason DeBord