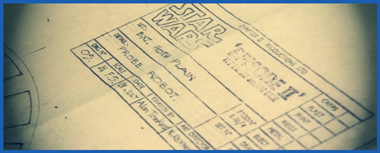 A new book, Star Wars: The Blueprints, has been announced via the official website for the work, which includes a video trailer, sample pages, and a great deal of information about the incredible tome.  The limited release book features blueprints from the Lucasfilm Archives and has been put together by author J.W. Rinzler, who has previously produced amazing works about the Star Wars and Indiana Jones franchises.
Limited to just 5,000 numbered copies, the first 125 of which are autographed by the three surviving Academy-Award winners for Best Art Direction, are priced at $1,000 for the special signed editions and $500 for the balance.
Per the specs, the 336 page book includes 10 gatefolds, 250 blueprints, and weighs in at 22 pounds (30 pounds with cloth case).
More details can be found at www.theblueprintsbook.com, which also includes a trailer (click below):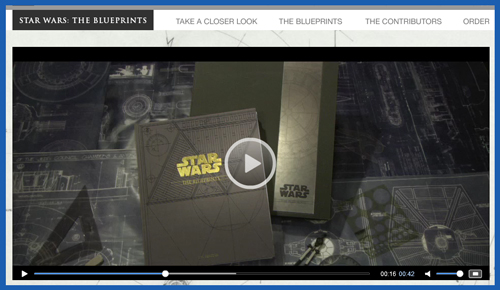 Below is the overview of the work from the official site:
Star Wars: The Blueprints brings together, for the first time, the original blueprints created for the filming of the Star Wars Saga. Drawn from deep within the Lucasfilm Archives and combined with exhaustive and insightful commentary from best-selling author J. W. Rinzler, the collection maps in precise, vivid, and intricate detail the very genesis of the most enduring and beloved story ever to appear onscreen.

Star Wars: The Blueprints gives voice to the groundbreaking and brilliant engineers, designers, and artists that have, in film after film, created the most imaginative and iconic locales in the history of cinema. Melding science and art, these drawings giving birth to fantastic new worlds, ships, and creatures.

Most importantly, Blueprints shows how in bringing this extraordinary epic to life, the world of special effects as we know it was born. For the first time, here you will see the initial concepts behind such iconic Star Wars scenes as the Rebel blockade runner hallways, the bridge of General Grievous's flagship, the interior of the fastest "hunk of junk" in the Galaxy, and Jabba the Hutt's palace. Never before seen craftsmanship and artistry is evident whether floating on the Death Star, escaping on a speeder bike, or exploring the Tatooine Homestead.

Star Wars: The Blueprints is a limited edition. Only 5,000 hand-numbered English language copies will be available.
J.W. Rinzler was a guest of the Prop Talk podcast with the Original Prop Blog late last year, to talk about The Making of The Empire Strikes back and some of his other works (see Prop Talk Podcast #009 – J.W. Rinzler, Lucasfilm).
Jason DeBord