Following tonight's "Redemption Island" season finale, AuctionCause is hosting an eBay charity auction of original assets from the popular CBS reality television program, Survivor. As has been tradition, 100% of the final sale price for the items will benefit charity, with this sale benefiting two organizations – Operation Smile and The Alliance for Children's Rights.
Original memorabilia from the show started to be listed in eBay following the live reunion show revealing the winner of this season, Rob Mariano ("Boston Rob").
See past article for details on previous auction events:
There are currently 83 items listed on eBay. The auctions can be via the link found below: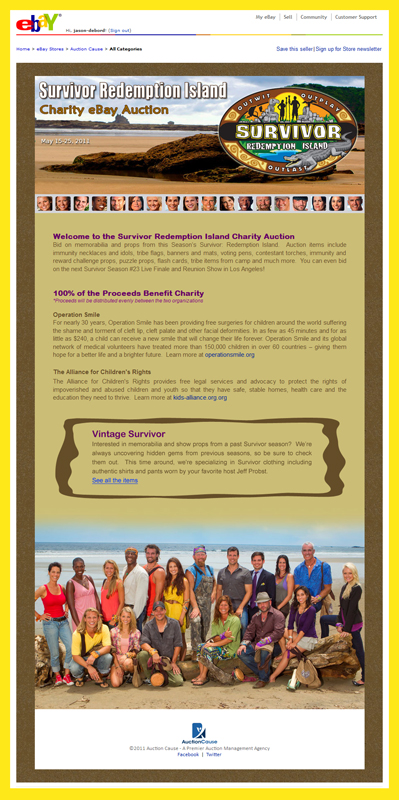 Popular items include the the "immunity necklace", the "hidden immunity idol", the "Murlonia", "Ometepe", and "Zapatera" camp flags, player's torches, puzzle pieces from various games and challenges, and other props seen on the show as well as a variety of "live" experiences.
Also included as part of the auction sale are "Vintage" Survivor memorabilia items from past seasons.
About Operation Smile (visit www.OperationSmile.org):
For nearly 30 years, Operation Smile has been providing free surgeries for children around the world suffering the shame and torment of cleft lip, cleft palate and other facial deformities. In as few as 45 minutes and for as little as $240, a child can receive a new smile that will change their life forever. Operation Smile and its global network of medical volunteers have treated more than 150,000 children in over 60 countries – giving them hope for a better life and a brighter future. Learn more at operationsmile.org
About The Alliance for Children's Rights (visit www.kids-alliance.org):
The Alliance for Children's Rights provides free legal services and advocacy to protect the rights of impoverished and abused children and youth so that they have safe, stable homes, health care and the education they need to thrive. Learn more at kids-alliance.org
Jason DeBord