While the hearing for Lucasfilm Ltd. vs. Andrew Ainsworth was held before the Justices early last month, the case details were only just recently published on UK Supreme Court website.   While the Judgment is currently pending,  the case summary offers a concise outline of the two issues to be considered by the court.
The site notes that the decided case will not be published until after the Judgment is handed down.
The case details for Lucasfilm Limited, Star Wars Productions Limited, Lucasfilm Entertainment Co Limited (Appellants) vs. Andrew Ainsworth and Shepperton Design Studios Limited (Respondents) can be viewed online at www.supremecourt.gov.uk (see Case ID UKSC 2010/0015 or via the ARCHIVE below):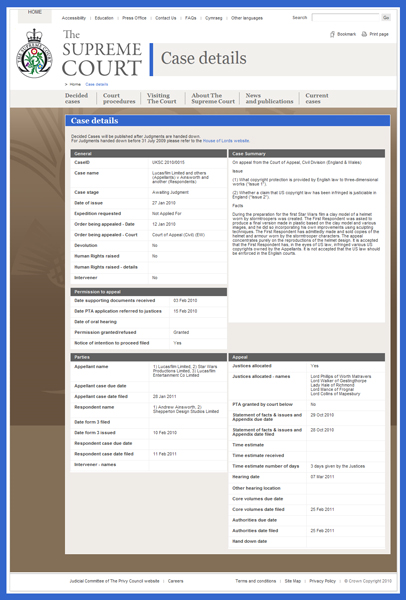 As outlined in the case summary, the two issues before the court are defined as follows:
On appeal from the Court of Appeal, Civil Division (England & Wales)

Issue

(1) What copyright protection is provided by English law to three-dimensional works ("Issue 1").

(2) Whether a claim that US copyright law has been infringed is justiciable in England ("Issue 2").

Facts

During the preparation for the first Star Wars film a clay model of a helmet worn by stormtroopers was created. The First Respondent was asked to produce a final version made in plastic based on the clay model and various images, and he did so incorporating his own improvements using sculpting techniques. The First Respondent has admittedly made and sold copies of the helmet and armour worn by the stormtrooper characters. The appeal concentrates purely on the reproductions of the helmet design. It is accepted that the First Respondent has, in the eyes of US law, infringed various US copyrights owned by the Appellants. It is not accepted that the US law should be enforced in the English courts.
A Judgment is expected over the coming months.
All related articles can be found below: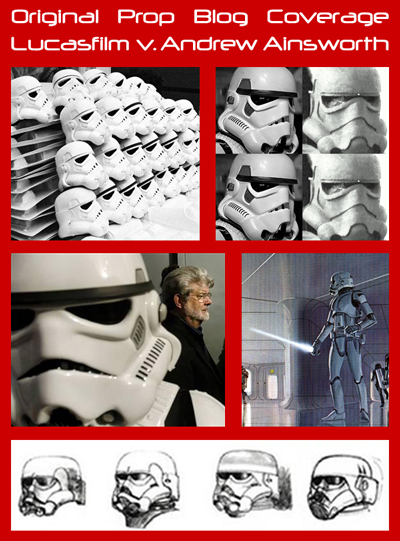 Jason DeBord