An article published in today's Salt Lake Tribune provides a history of Bringham Young University's role in preserving an incredible archive of production material from Cecil B. DeMille's The Ten Commandments (1956), as well as the role of Utahns who were involved with the film and the famed director's respect for their reception of his classic film. 
The story can be found at www.sltrib.com (see BYU parts the sea for new 'Ten Commandments' release):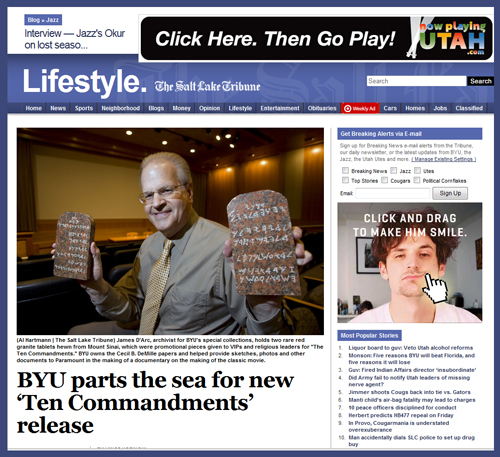 The feature by Vince Horiuchi talks about the extensive archive of material maintained by James D'Arc, curator of BYU's L. Tom Perry Special Collections:
In the late 1970s, DeMille's daughter donated the director's papers to the university. The gift included more than 1,200 boxes of production records, scripts, research files and publicity files. There also are 38,000 photos and 10,000 pieces of production art, costume sketches and scene drawings.
Interesting artifacts from the archive will be featured in the upcoming 55th anniversary Blu-Ray disc sets of The Ten Commandments, which will be available next week (with choice of a standard two-disc and a six-disc edition limited to 100,000 copies).  The studio, Paramount Pictures, worked with BYU to produce supplements and extras to the movie, which represents a terrific byproduct of the university's foresight in preserving this important material over many decades and the studio's interest in sharing selections from the archive with the public via the technological advances made possible with the medium.  From the Salt Lake Tribune feature:
"There were things we've never seen," said Cindy Walker, Paramount's executive director of Blu-ray and DVD content, about BYU's collection, which she viewed last year. "We don't have them, you have them. To completely connect the studio history with the actual asset history there in Utah was mind-blowing."

A year ago, the movie was digitally restored by scanning the original camera negative through a computer and cleaning it frame by frame. The project was completed for last year's annual television broadcast on ABC (and it will be shown again this year during Easter weekend). That new version was then used for the upcoming Blu-ray.

"There's such incredible detail paid to each aspect of the film, and it really pays off in this version," said Ron Smith, Paramount's vice president of preservation and restoration, who oversaw the project. "It really comes through. You're going to see things [in the film] you've never seen before."
The article also notes that BYU also maintains collections in their archives for the works of James Stewart, Howard Hawks, Merian C. Cooper, and Max Steiner.
You can learn more about BYU's archives at their official website lib.byu.edu (Arts & Communications – L. Tom Perry Special Collections):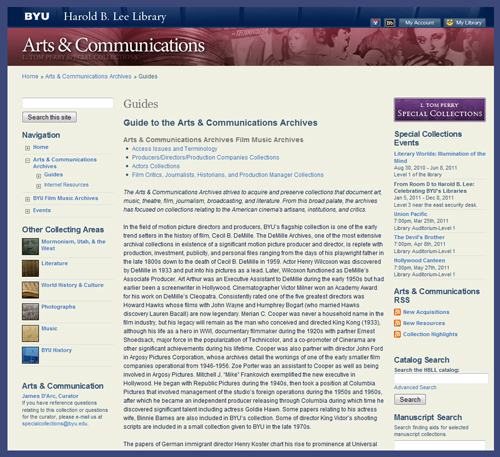 Jason DeBord