Owners Holly Haber and Lennard Billin and their business, Reel Clothes & Props, are featured in an extensive article published in print and online in today's Daily Mail out of the UK.  The publication, which has a fondness for celebrities, focuses on what kind of wardrobe material the retail outlet offers and goes into specifics of how it relates to various Hollywood actors and actresses, as well as providing a primer on the notion of values and investment.
The full article can be found at www.DailyMail.co.uk (see Jennifer Aniston's Manolos and Sarah Jessica Parker's Dior: How YOU can get your hands on the stars' screen wardrobes):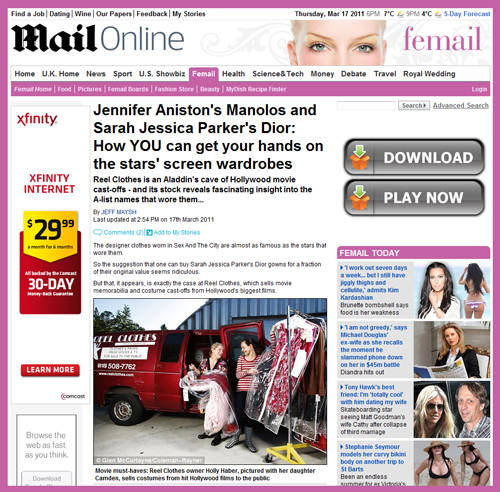 While the article's primary interest is in Hollywood stars and their designer clothes worn in film and later made available for sale via the www.ReelClothes.com website, there are some interesting anecdotes shared in the informative feature.
It offers interesting insights into the liquidation of the predominantly wardrobe-based assets, such as the fact that $450/pair shoes, "worn once", are subsequently sold for $170, a significant discount off of retail, in addition to having been worn by a star such as Jennifer Aniston (or in some cases, her stunt double).  Also interesting is how things might be modified for production – in the case of those Manolos, with the addition of skid pads on the bottoms.
Another interesting anecdote involves the contracts negotiated by the principal actors for various productions, such as Woody Harrelson's refusal to wear "animal products", such as authentic leather and snakeskin for jackets and belts as worn in Zombieland – or Julia Roberts getting to keep her wardrobe post production.  Though the latter is not usual for top actors working in film (see "The Robert De Niro Collection" at the Harry Ransom Center, University of Texas at Austin).
One of the most enlightening comments in the article concerns cult favorite The Big Lebowski, for which Reel Clothes and Props "bought the entire wardrboe for $1,800 in 1998".  As such, Lennard provides some insights into investing in movie memorabilia in the article sidebar.
I had an opportunity to interview Lennard as part of my podcast series last year (see Prop Talk Podcast #003 – Lennard Billin, Reel Clothes and Props | Interview by The Original Prop Blog with Jason DeBord).
Learn more about Reel Clothes & Props at the official website, www.ReelClothes.com.
Jason DeBord