Desi DosSantos and Jeff Castillo of ScreenUsed have recently shared with me their efforts in restoring one of the few surviving DeLoreans customized and used in filming the Back to the Future trilogy.  Today, they are publicly announcing the completion of their work, all in time for the 25th Anniversary of the original film.  All details about the restoration, with before and after pictures, can be found at www.BTTF3delorean.com.
Below are some fantastic photos of the DeLorean (click images for full resolution):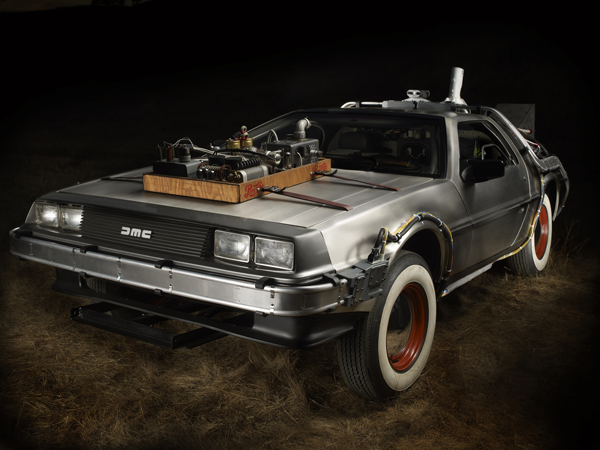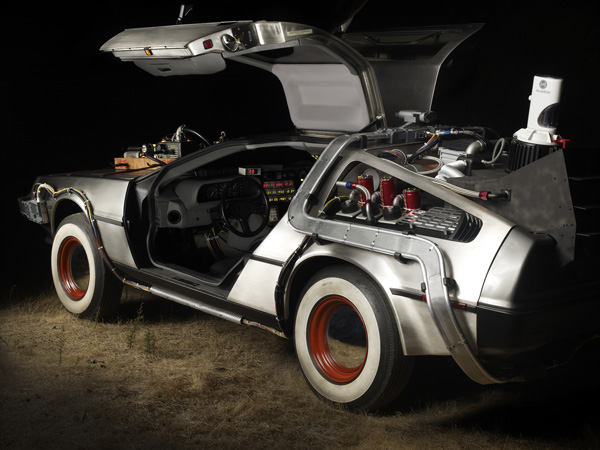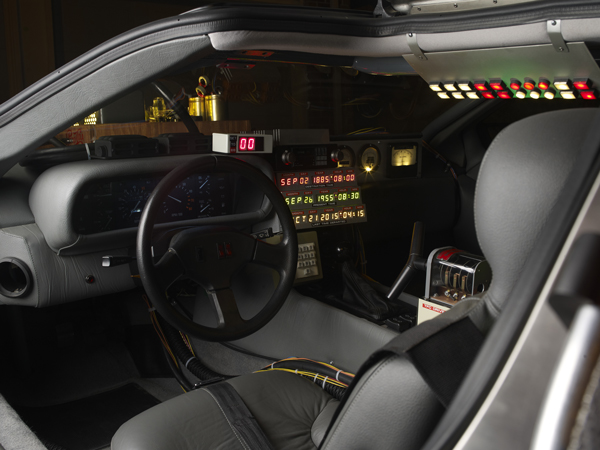 The following press release was prepared by Jeff and Desi at ScreenUsed.com:
Original Screen Used DeLorean Time Machine Used in Back to the Future III Brought Back From Extinction and Restored for Future Generations

There were several DeLorean cars used during the three Back to the Future movies, so where are they all? This is the story of one of the remaining screen used DeLorean Time Machines driven by Michael J. Fox in the movie.

San Jose, California – October 21, 2010 – Where are all the real DeLorean Time Machines that were used in the Back to the Future movies? Sadly, some of them no longer exist, and others are in need of extensive work. Of the seven cars used over the three movies, only three original cars are thought to still exist. One of those is in private hands and has been meticulously restored for future generations.

This particular car is one of two that were completely built for off road use. The DeLorean chassis was removed from the front and rear and replaced with high performance sand rail sections and suspension. The DeLorean engine and transaxle were replaced with a high performance VW engine and transaxle. The entire car had a custom roll cage built from the suspension up and into the interior.

After filming completed, the car sat on the backlot at Universal for about 11 years. In 2000, it was decided to put the car on display in the Petersen Auto Museum in Los Angeles. The car was prepared by an auto customization shop for the display, however, the work performed did not do justice to this piece of cinema history.

In 2003, the car was acquired by ScreenUsed with a Certificate of Authenticity and a bill of sale for legal transfer of ownership from Universal Studios. Prior to this, it was abandoned outside, uncovered in the weather for many years on the backlot at Universal Studios in Los Angeles. The gullwing doors were frozen shut, most likely due to use during the off-road scenes, which may have slightly twisted the understructure. In order for the car to be put on a trailer, it had to be dragged on. Once back in the shop, to start the initial restoration, one of the windows and inner door panels was removed, then the inside of the two door locks were drilled free and replaced.

Because of the terrible condition of the car, and the unprofessional handling of it by the customization shop after filming, ScreenUsed decided it would be best to do a complete ground up restoration. Typically, it is not preferred to restore screen used movie props in order to keep their original appearance as they were used, or whatever condition they ended up in after production. However, with this piece, it was in such a sad state, that it didn't resemble what it looked like on screen.

"The decision to do a full restoration was reached when thinking about a piece such as this and what impact it will have for future generations," said Desi DosSantos, co-owner of ScreenUsed. "This car will at some time end up in a museum and be preserved for generations long after any of us are alive. For that reason, when someone walks up to see the car and asks "where's the Flux Capacitor" or "I want to see the Mr. Fusion", those items really need to be on the car."

"Having the privilege to own and care for this piece of history has been an exciting undertaking for us," said Jeff Castillo, co-owner of ScreenUsed. "Sharing it with the public after years of the restoration process is something we have looked forward to for a long time."

To see all of the restoration details along with before and after pictures, visit the website at http://www.BTTF3delorean.com.

About ScreenUsed:

ScreenUsed was founded in 2003 by Desi DosSantos, a computer center automation specialist, and Jeff Castillo, a quality, custom home craftsman & fabricator. What began as a hobby for the pair, blossomed into a company now world renown as an industry leader in the field of original Film & Television production memorabilia sales (props, costumes, miniatures, special make-up effects artifacts, production artwork, rare documents, etc.). With a combined 34 years in the business of brokering historic Hollywood artifacts, ScreenUsed offers a wide range of special services to its clients, including research, preservation, exhibition, and to corporate clients specialized marketing, promotion & auction services. ScreenUsed maintains an in-house, museum-quality, plexiglass display case manufacturing facility that is well known for its high level of craftsmanship and display methodology. The company's established international network of collectors and entertainment industry sources is highly regarded by the field, museums and the media.
Jason DeBord