Star Wars Celebration V, the "official Lucasfilm event celebrating all things Star Wars, produced by fans for fans" has been in full swing this week.  While not personally in attendance, I thought I would publish a report on highlights of interest to original prop collectors, notably Lucasfilm announcing the release of the all six Star Wars films on Blu-Ray disc next year (per an interview with the New York Times), which will include never before seen footage, including a scene with Luke finishing the construction of his lightsaber in a cave on Tatooine from Return of the Jedi. The existence of such a scene has long been a matter of debate among Star Wars fans.
In that there have been lightsabers in the marketplace attributed to such a scene, and had even had an opportunity to ask Mark Hamill if he recalled filming such a scene (see 2009 Comic Con coverage), it is quite remarkable to see that such footage actually does exist after all these many years – video below courtesy TheForce.Net via YouTube:
I did want to note that in my discussions off-camera with Mr. Hamill last year, my emphasis in describing the scene was focused on the lightsaber and that it opened up and had many moving parts, and that he was seen "constructing" the prop, whereas this very brief scene does differ somewhat from what I described in the abstract, which probably did no service in helping him to see if he could recall participating in filming such a scene.  Hopefully more details will emerge with regards to this scene in the future, in conjunction with the Blu-Ray release.
Unrelated to that news, Jeff Castillo of ScreenUsed was kind enough to take some photos for the Original Prop Blog of the Prop Store exhibit at Celebration V.  These were the only original props and costumes Jeff found on display at the exhibitors area.
Below is a photo of the Prop Store exhibit: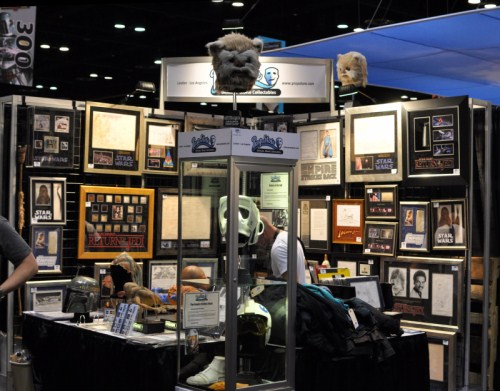 Special thanks to Jeff for providing the photo for readers of the Original Prop Blog.
Jason DeBord