Julien's Auctions next auction will be held in Macau, China on October 9th, 2010.  The catalog is available for purchase and can now be viewed online.  Included in the sale are props and costumes from a variety of modern and classic film and television, as well as a substantial about of material associated with Michael Jackson.   The sale features props, wardrobe, photos, posters, autographs, animation art, scripts, personally owned items, and a variety of other material.
The catalog can be viewed at JuliensAuctions.com: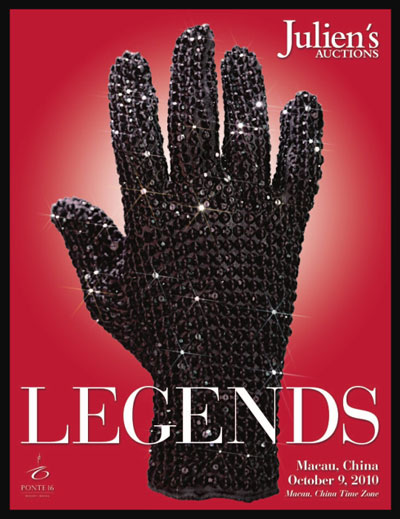 Below is a video about the event produced by Julien's Auctions and published on their official YouTube channel:
Below is the official press release for the event:
JULIEN'S AUCTIONS HOLDS HISTORIC FIRST

POP CULTURE AUCTION IN ASIA AT

PONTE 16 IN MACAU, CHINA

FOR IMMEDIATE RELEASE Los Angeles, CA — Julien's Auctions, the premiere auction house in the world for entertainment pop culture memorabilia, is proud to announce the auction of iconic property to take place on October 9, 2010 at Ponte 16, a world-class entertainment resort in Macau SAR, China.

This partnership, spanning two continents, will feature property from the life and career of Michael Jackson including stage worn costumes, original paintings, handwritten notes and a rare black Swarovski crystal glove ($30,000/50,000) worn by the "King of Pop" during his historic promotion of his 30 million dollar promotional campaign for the album HIStory: Past, Present and Future and other items from his legendary career.

Another major highlight of the auction is a burgundy velvet ball gown worn by Princess Diana to a 1989 event at the French Embassy honoring the French ambassador, Vicount Luc de La Barre de Nateuil (Est. $80,000/$100,000). In addition, an assortment of pop culture artifacts will be offered from block buster films and television shows such as Ghostbusters, The Batman film franchise, The Legend of Sleepy Hallow, Babylon 5, Krull, The Last Starfighter, Heroes, 24, The Last Samuri and the original television series V will be included in the auction. Other legendary property include items from the life and career of Madonna, Elvis Presley, Marilyn Monroe, Bruce Lee and other iconic legends who's popularity spans all continents.

Highlights will tour Tokyo, Japan and Santiago, Chile prior to the exhibition and historic auction at Ponte 16 in Macau China. Fans and collectors will be able to participate in the auction in real-time at www.julienslive.com where they can see and hear the auction as it is taking place live at Ponte 16 in Macau, China. A full color limited edition collectible catalog is available at www.juliensauctions.com.

Public Exhibitions:

Asia – Tokyo, Japan
tv asahi Roppongi umu – Produced By Princess Tenko
Tuesday, August 24tht d – Monday, September 6th
Hours: 10:00 a.m. – 10:00 p.m. Daily

South America – Santiago, Chile
Museo De La Moda
Thursday, September 9th – Thursday, September 16th
Hours: Monday – Friday: 10:00 a.m. – 6:00 p.m./Saturday & Sunday 11:00 a.m. – 11:00 p.m.

Asia – Macau, China
Ponte 16
Friday, September 24th – Friday, October 8th
Hours: 10:00 a.m. – 10:00 p.m. Daily

Live Auction:

China Time Zone (Asia)
Saturday, October 9th Session I: 10:00 a.m. Session II: 2:00 p.m.

Greenwich Mountain Time (Europe)
Saturday, October 9th Session I: 3:00 a.m. Session II: 7:00 a.m.

Eastern Standard Time (New York)
Friday, October 8th Session I: 10:00 p.m.
Saturday, October 9th Session II: 2:00 a.m.

Pacific Standard Time (Los Angeles)
Friday, October 8th Session I: 7:00 p.m. Session II: 11:00 p.m.

Registering to Bid

Registration is required to bid in this live auction and can be done either in person at the exhibitions and auction or by visiting www.juliensauctions.com before the sale or by calling (310) 836-1818.

Placing Bids

There are four ways to bid in this sale:

Bid through Julien's Auctions Online Live in Real Time at www.juliensauctions.com
Place bids in the room by attending the auction
Bid over the telephone through an auction house representative, who sits in the room and conveys the bid to the auctioneer
Enter Absentee bids. Absentee bid forms are printed in the back of each catalogue, and are also available by calling Julien's Auctions or online at www.juliensauctions.com

About Julien's Auctions

With expertise specializing in entertainment memorabilia, Julien's Auctions has quickly established themselves as the premier auction house in high profile celebrity and entertainment auctions. Julien's Auctions presents exciting, professionally managed and extremely successful auctions with full color high quality auction catalogues unlike any other auction company. Previous auctions include the collections of Cher, U2, Barbara Streisand, Michael Jackson, Madonna, the estate of Marilyn Monroe and many more.
Jason De Bord