This is the second in a multi-part series of interviews with Breanna Livie of The Golden Closet at her family's business, the famous Eastern Costume.  These videos provide a "behind the scenes" glimpse into both businesses.
In this Part 2 segment, Breanna talks further about the "Star Fitting Room" for Eastern Costume and some of the showcase pieces in the Golden Closet collection, including Russell Crowe's wardrobe as Captain Jack Aubrey from Master and Commander: The Far Side of the World (2003) and Kevin Spacey's costume worn as Larry Hooper in The Men Who Stare at Goats (2009).
Sierra Bay Robinson also talks about some of the vintage wardrobe pieces that they have identified and attributed to particular actors and productions., including a vest worn by Elvis Presley, a jacket worn by John Wayne, a costume worn by Britney Spears in one of her videos, a dress worn by Elizabeth Taylor in Malice in Wonderland (1985), and a hat worn by Bob Crane as Col. Robert E. Hogan in Hogan's Heroes.
The same video can also be viewed on YouTube:  LINK
Future installments of this video interview series will be published over the next week.  Still photography from the visit were published a few days ago (see Photographic Preview: A Visit With Breanna Livie, The Golden Closet; Behind the Scenes at Eastern Costume).
All video interviews from this series can be found via this link: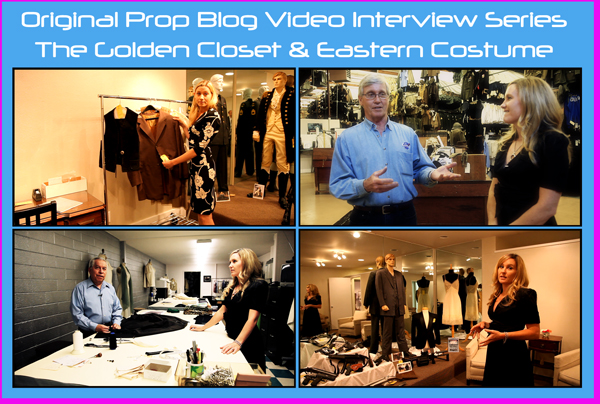 Jason DeBord