A new blog marketing the upcoming Star Trek portion of the Profiles in History "Hollywood Auction 40" has launched on the Internet, with additional photos and video of lots from the upcoming sale.  The videos uploaded thus far highlight the working electronics of some of the hero hand props from the Star Trek auction on June 12, 2010.
Content has begun to be added to the site, which can be found at startrektheauction.blogspot.com: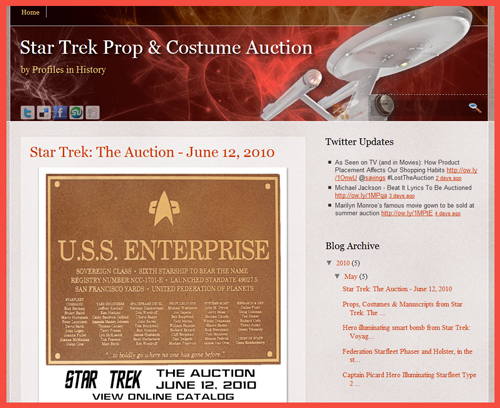 Below are some of the videos which can be found on the site (which have been added over the past few days):
The Profiles in History sale is one of three prominent Star Trek auctions this summer, with unrelated events being held by Julien's Auctions in Las Vegas on June 27th at Planet Hollywood (see Julien's Auctions 'Star Trek' Catalog Available Online, Part of "Summer Sale" June 2010 at Planet Hollywood in Las Vegas) and another event promoted by Propworx which will be at the official Creation Star Trek convention in Las Vegas on August 8th (see Propworx "Official Star Trek Prop and Costume Auction" Catalog Online, Live Event August 8th in Las Vegas).
Jason DeBord