In the past few weeks, the scandals involving allegedly fraudulent vintage movie posters circulating in the marketplace has been covered by various online and print media outlets, including The Gainesville Times, The Athens Banner-Herald, and Rue Morgue Magazine.  In addition to general overview of the various scandals involving dealers, collectors, auction houses, and law enforcement are court documents related to various lawsuits between multiple parties involving various jurisdictions.
As a point of disclosure, I personally interviewed with two of the media outlets (The Athens Banner Herald and Rue Morgue Magazine) in their research into crafting their articles, limiting my input to general memorabilia collecting rather than specifics about poster fraud, which is outside of the scope of my experience and expertise.
The first article, published on 04/11/10 by Stephen Gurr of The Gainesville Times, is "Commerce man accused of collectible con; FBI investigating claims of fake vintage posters", which can be found in full at www.GainesvilleTimes.com:

The second article, published on 04/15/10 by Merritt Melancon of The Athens Banner-Herald, is "Horrified, former customers claim he sold them fakes; Poster collector target of suits", which can be found at www.OnlineAthens.com:

The third article by A.S. Berman is print only, and published in the latest monthly issue (#99) of Rue Morgue Magazine.  "Forgeries on the rise in vintage horror movie poster market" can be previewed below, and the issue can be ordered online at www.Rue-Morgue.com:

Included with the Gainesville Times article are three court documents pertaining to lawsuits from disputes over the posters which have been claimed to be fraudulent.
The first is a "Complaint To Determine Nondischargeability of Debt…" filed in United States Bankruptcy Court in the Middle District of Georgia between Ronald Magid and Kerry Haggard, filed 04/05/10.
The second is a "Verified Complaint for Relief from Fraud and Additional Claims and Demand for Jury Trial" filed in United States District Court for the Eastern District of Michigan between James Gresham and Kerry Haggard, Tiffany Haggard, Jaimie Mendez, and others, filed 08/27/09.
The third is another filing related to James Gresham vs. Kerry Haggard, et al filed 10/30/09.
As reported earlier this year (see "Profiles in History Files Lawsuits Against Fraudulent Movie Poster Auction Consignors"), auction house Profiles in History also filed lawsuits for disputes related to claims of fraudulent movie posters, with a lawsuit filed in Superior Court of California, County of Los Angeles, against Peg Pannell Smith and Kerry Haggard and a second suit filed against Thomas Rega and the "Rega Defendants".
"LAMP" (Learn About Movie Posters) has additional information about various related lawsuits (LearnAboutMoviePosters.com):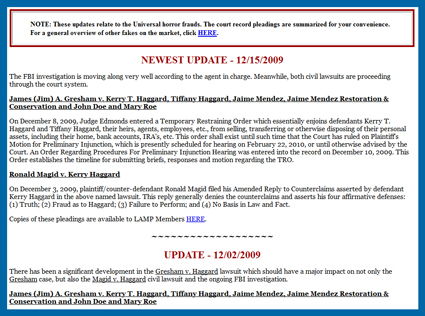 Past related articles published by the Original Prop Blog can be found via the link below (Market Watch | Posters, One Sheets, Lobby Cards):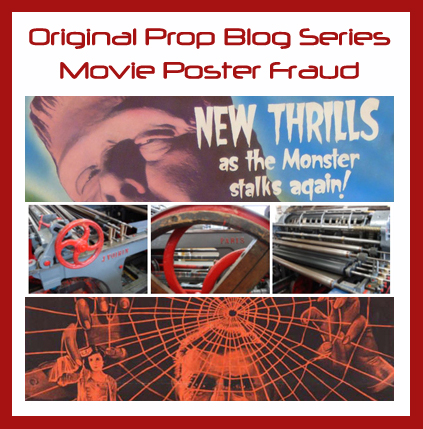 Original Prop Blog will continue to monitor these lawsuits and other developments related to the movie poster scandal at large.
Jason DeBord