There is a new website called "The Prop Blog".  In that this can cause confusion for anyone searching for "The Original Prop Blog" – since the name is nearly the identical – I thought it would be appropriate to publish a public notice and statement of the fact that "The Prop Blog" has no connection nor affiliation whatsoever with "The Original Prop Blog".  However, based on my research, I would like to pose an open question:  Is there a relationship between "The Prop Blog" and "Propworx" or its principals?
Per an announcement topic on the Replica Prop Forum (see Launching "The Prop Blog"), the author of the articles, Dan Benton, is a sports writer who recently "stumbled on the world of prop collection" and that collectors "might be most interested in the Iron Man auction article".
In doing some searching on the web, the author of the articles published on "The Prop Blog" appears to have possibly served as "Content Director" and/or "Vice President of Operations" for the company "Screaming Sports".
Alec Peters of studio prop reseller and auction house Propworx had co-founded the company "Screaming Sports" and served as its CEO (see "Screaming Sports Official Company Blog", see "Atlanta Business Chronicle: Technology exec tackles fantasy ball", see "Georgia Podcast Network Interview – Alec Peters, CEO and co-founder of Screaming Sports", ).
However, there is no reference to "Screaming Sports" in the Alec Peters bio on the official Propworx website (see Propworx: Our Team).
Similarly, there is no reference to "Screaming Sports" in the Dan Benton bio on "ThePropBlog":
From "ThePropBlog":
Dan Benton is a professional writer based in Hudson Valley, New York. Since 2004, he has worked for AOL Sports, Madison Square Garden and currently owns and operates Giants 101. He has also done freelance work for Yahoo! Sports, The Mirl, Bleacher Report and various other outlets. In his current role, Benton acts as one of the lead staff writers for The Prop Blog. He can be reached at dan@thepropblog.com
From "Deletionpedia" – deleted from Wikipedia (Link to Google Cache | Archive of Google Cache):
Daniel R. Benton (born March 26, 1983) is an American sportswriter and columnist for AOL Fanhouse, MSG Network and Screaming Sports (FS Dashboard, Incorporated). Benton is best known for creating Giants 101 and for co-hosting Outsider Radio with Brandon Rosage. He is a staff writer at both FanHouse and MSG, and currently serves as the Content Director and a G101 contributor for Screaming Sports.
In my research, the website www.screamingsports.com appears to currently be offline/unresponsive.
There is a Google cache of a page from YardBarker.com with the opening of an article titled "Screaming Sports Shutting Down Servers" which was "Found December 31, 2009 on Giants 101".  There is not an author listed, but the excerpt states:
Ironically, on this exact date one year ago, I was informed that Screaming Sports would essentially be shutting down due to lack of funds and my job would not be carried over into the new year. Today, I was informed that Screaming Sports will be shutting their servers down shortly and that Giants 101 will be a casualty of further budget cuts. With the new design of G101 already completed, the domain name intact and a host waiting in the wings, we're all but ready to move. The h…

The Alec Peters LinkedIn profile lists him as "CEO at Screaming Sports" and shows that he had published a recommendation for "Dan Benton, Content Director, Screaming Sports" which opens, "Dan is one of the best employee I have ever had…"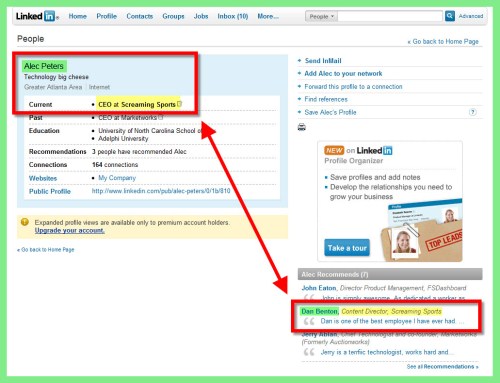 Interestingly, Dan Benton's LinkedIn Profile no longer lists any position with "Screaming Sports", though it does list experience as Vice President of Operations for "[Private Outlet]" from October 2007 to present.
His "Bleacher Report Sportswriter Profile" appears to have recently changed, in that searching Google for "Dan Benton" + "Screaming Sports" shows in the snapshot view "Dan Benton is an avid New York sports fan who burst onto the online scene in … Square Garden (MSG) and most recently, Screaming Sports (VP of Operations). …", while the reference to "Screaming Sports" no longer appears on the live page or the Google cache version: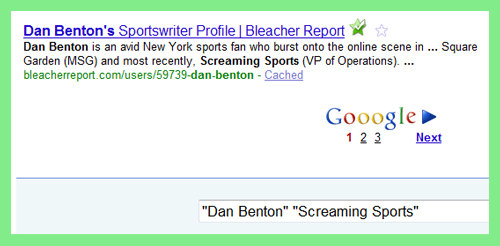 Similarly, the snapshot view of the same Google search for the LinkedIn profile results include similar citations as "Vice President of Operations at Screaming Sports":

Today's "The Prop Blog" article by Dan Benton is about this weekend's Propworx auction of Iron Man assets from the Marvel Studios film (see similar coverage by the Original Prop Blog published yesterday: "Propworx Iron Man Movie Prop and Costume Auction Catalog Online, Live Event April 18th at C2E2").
Jason DeBord