The next big PropWorx auction event is the sale of original movie props and costumes from the first Iron Man film starring Robert Downey Jr., on behalf of Marvel Studios.  The auction will take place at the Chicago Comic and Entertainment Expo (C2E2) on Sunday, April 18th.  Online bidding is available via LiveAuctioneers and the full catalog can be found online.
As noted in a prior article, the hardcopy catalog is available to purchase online (Details on PropWorx Iron Man Movie Props, Costumes, Auction Catalog).
To bid online, visit www.LiveAuctioneers.com: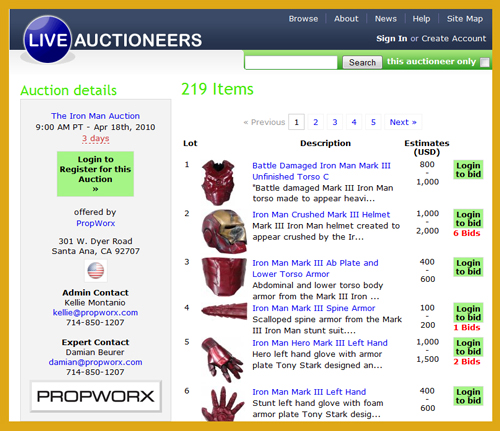 It is likely that the Motion Picture Prop Company will be publishing a report about the auction, as one of their writers will be in attendance at the event (see themppc.com).
Jason DeBord