A reader got in touch with me with observations regarding the recent article on the new Propworx auctions (see Propworx Launches Stargate eBay Auctions, Website; Announces Live Auction Events), making note of the initial items sold (most for $0.99) with positive feedback and related remarks left for the "propworx2" seller account for those eBay transactions.  In many cases, positive feedback was left on the same day that the auctions ended, with several customers praising packaging and/or shipping.  It also appears that one or more Propworx associates may have won some of these auctions and left positive feedback for the Propworx seller account.  This article merely highlights publicly available information.
Below is a link to the current feedback page for "propworx2", an eBay account created on 01/19/10 [ARCHIVE]: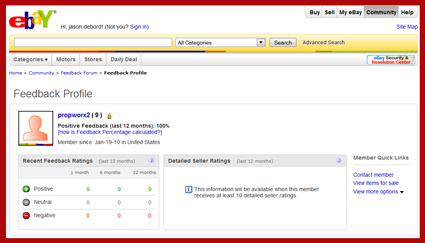 Below are a few examples of auctions that ended just three days later on 01/22/10 and the corresponding feedback from the buyers – left on the same day – praising packaging and/or shipping (click each image for full resolution):



Some of the listings were categorized as 3-day listings, but were open for bidding for less than one hour – in the example below, the auction started at 01/21/10 @ 22:34 PST, a bid for $0.99 was placed at 22:43 PST, and the auction was ended early at 22:55 PST:

It appears that one or more of the bidders who won "Stargate Replicator Blocks" and left positive feedback may be associated with Propworx (see "Our Team") – "linnear" (Alec Peters?), "damaris4898" (Damaris Degen?), "kmon5384" (Kellie Montanio?) – please note that this is unconfirmed.

According to eBay policy, "[w]orking with other members or registering multiple accounts to artificially increase your Feedback score" is "not allowed" (see eBay Guidelines: "Feedback Manipulation"):

Also of interest is that there were exactly nine (9) of these pre-public eBay Stargate listings with subsequent positive feedback, and DSRs (Detailed Seller Ratings) do not appear until ten (10) reviews are made by customers:

Jason DeBord